Malaysia U23
Kim plays down impact of extra rest day for Malaysia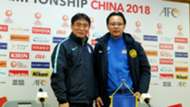 The losing finalist of the 2016 competition, South Korea are once again in the knockout stage of the AFC U23 Championship and probably couldn't believe their luck in facing Malaysia for a place in the semi-final.
Kim's side came through the group stage undefeated, after winning two matches and drawing the other to finish top of Group D ahead of Vietnam, Australia and Syria.
South Korea finished their group a day later than Malaysia but Kim isn't particularly perturbed by the extra 24 hours of recovery and rest that the Malaysian team got.
"Our players have good matches in the group stage and they did well. We had a difficult match against Australia, but so were the other two matches. But our players are in strong spirits, I'm confident they will recover well." 
"After the 3 matches, we have some small injuries but nothing too concerning, the players will be tested before we decided on the line-up. Yesterday we had one rest day where we concentrate on recovery, so it will not be a big factor," said Kim in the pre-match press conference on Friday.
Kim himselft have expected to face either Saudia Arabia or Jordan but was left impressed with the work that Malaysia have put in to get to this stage of the competition. He notes that the outcome may not be as clear as most would expect.
Given that Malaysia defended brilliantly throughout the entire 90 minutes against the Saudis despite being put on tremendous pressure, Kim is aware that a similar scenario may occur in the quarterfinal and that could see the match extend beyond normal time.
"We didn't have any expectations who to meet between Saudia Arabia and Malaysia. The Malaysian team have a very balance team between defence and attack."
"Nobody knows the result of the match. We will show our own style with some changes. If we can score any time, we will accept it. If it goes down to penalties, we are prepared for it," added Kim.