Mexico
Sources: Mexico's Osorio weighing multiple job offers - but USMNT isn't one yet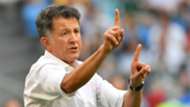 While the Mexican Football Federation continues to publicly carry on as though a final decision has yet to be made on Juan Carlos Osorio's fate as El Tri manager, the number of job opportunities being presented to Osorio continues to grow.
A half dozen national teams, including two from South America and two from Asia, have contacted Osorio about their national team head coaching positions, sources told Goal. The wave of interest comes on the heels of Mexico's showing at the World Cup, which saw El Tri shock Germany, and earned Osorio high praise as an impressive tactician.
One country that has not made any approach on Osorio is the United States. Sources tell Goal that U.S. Soccer has not made contact with Osorio about the U.S. national team position, but that is down to the fact that incoming USMNT general manager Earnie Stewart does not formally begin his new role until August 1. As things stand, sources confirmed no candidates for the USMNT job have been formally contacted or interviewed by U.S. Soccer.
Osorio has been heavily linked to the USMNT job and the Colombian national team job, and a source says Colombia is one of the two South American programs to contact Osorio about their head coach position.
Will Osorio be a candidate for the USMNT position? One source with knowledge of the coaching search process says that Osorio is expected to be considered for the role.
The question then is whether the fact that U.S. Soccer won't formally begin its search until August 1 will wind up costing the USMNT a chance to land Osorio. That seems possible given how much other interest there is in his services, but sources tell Goal that Osorio isn't close to a decision on his next job yet, and is very interested in the USMNT position.
As for the Mexican national team job, Mexican federation sporting general director Guillermo Cantu said on Wednesday that no decision had been made on the position, which seemed to suggest that Osorio had yet to make a decision. Goal reported on July 19 that Osorio had rejected a contract extension, and sources saying that nothing has changed and Osorio has no interest in returning as El Tri coach.
So why act as though Osorio hasn't made a decision, when he has already informed the FMF that he doesn't plan to return? It could be an attempt to buy time while the Mexican federation secures a replacement for Osorio. The impact of having Osorio very publicly reject a chance to continue as El Tri coach will only be exacerbated if El Tri and its fans are left in limbo while the federation seeks out a replacement.
The Mexican federation could also be preparing to make Osorio an improved offer, but one source tells Goal that an improved offer isn't going to get Osorio to accept a return as Mexico coach.