MLS
Six straight in The 6 — Toronto FC extends record-setting winning streak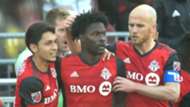 TORONTO — The speakers at BMO Field were on full blast after Toronto FC's 3-2 victory over Minnesota United on Saturday, with DJ Khaled's "All I Do Is Win" providing the soundtrack to the jubilant postgame atmosphere at the 10-year old stadium.
The song used to be played ironically in years past, but this time it was used to punctuate a club record sixth-straight victory.
Giovinco return cut short by injury
Perhaps even more impressive than the run of results is the speed at which they came. Five of the six victories came in a 15-day span, and Saturday's result happened despite three of TFC's starters being pulled due to injury.
To say this has been a character-defining stretch for the first place club is an understatement.
"That's five wins in 15 days, I don't know if that has ever been done before," TFC head coach Greg Vanney said. "No one said the last one was going to be easy by any stretch."
As the coach indicated, the winning streak hasn't been without its challenges. The team has had to make do without 2015 MLS MVP Sebastian Giovinco for much of its run to the top of the table — including all of the second half of Saturday's match as the Italian limped off with a quad injury. 
In addition, the four most recent wins have all been one-goal affairs, with some of the results being a little too close for comfort for the Reds.
Minnesota, in particular, looked to take advantage of a tired and lethargic Toronto team and nearly escaped with a point. If not for the late-game heroics of Tosaint Ricketts and Jozy Altidore, who combined for the winner in the 77th minute, the attitude in TFC's locker room would have been decidedly less celebratory.
.@JozyAltidore goes BEASTMODE to set up the winner for @TosaintRicketts.#TFCLive | #TORvMIN pic.twitter.com/kBdRtJ4qW0

— Toronto FC (@torontofc) May 13, 2017
"A little too entertaining for my liking; it was back and forth," Vanney said when asked to summarize Saturday's match. "Credit goes to them too. They were pushing. They were putting guys into some good spots and they created some problems for us. Obviously they kept matching our goals before we were able to give ourselves a two-goal lead. 
"We kept having to scrap and claw and push to try and get enough to win the game in the end."
Something that TFC has done well during its winning streak has been adapting to each match as needed. The club was dominant and free-flowing in its earlier wins, then as time, miles, and injuries started to pile up, the team shifted to a more pragamatic approach.
It takes many different styles to maintain success, and Vanney said his team's willingness to go for the victory regardless of the circumstances is becoming more apparent as the season goes on.
"There is a winning mentality, an aggressive mentality," he said. "We're at home and at 2-2 [late in the second half] does one point give us a ton of good or does going for three points do us some good?"
Spirit acquire USWNT star Pugh
The team answered emphatically, and the win streak was extended. 
Perhaps most important is that TFC finally gets to have a bit of a rest. After earning 18 points in 22 days, it's well deserved.