Simba
Simba in Iringa for cold weather training camp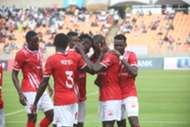 Pierre Lechantre and his Simba SC players are in Iringa for a two day cold weather training camp before facing Njombe Mji on April 3.
Jonas Mkude who was doubtful for the trip is also included in the squad and he will be in contention to play after recovering from a knock he received in training last week.
Long time absentees Salim Mbonde and Haruna Niyonzima have both returned to the training this week but it's unlikely they will feature in this fixture.
The Ligi Kuu leaders will face the bottom club in the first of their tough run of matches after the international break. Simba will have to play three times away from home before hosting their arch rival (Yanga) on April 29.
Simba are currently top of the league with 46 points and are ahead of Yanga who sit second on only goal difference.