Ghana
Sigurdsson: Iceland lucky not to have lost to Ghana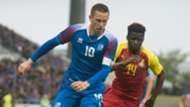 Iceland playmaker Gylfi Sigurdsson reckons they could have easily lost Thursday's friendly fixture against Ghana by the turn of events in the second half. 
After taking a two-goal lead into half-time, Heimir Hallgrimsson's outfit broke down after recess as Ghana scored twice to snatch a 2-2 draw in Reykjavik. 
The match was Our Boys' sendoff for the World Cup, where they will come up against Argentina, Nigeria and Croatia in Group D. 
"The first half of us was very good," Sigurdsson told Mbl.is.
"We were dangerous and were well-behaved.
"This was completely reversed in the second half. 
"We were slowed down. We never picked up any [loose balls], especially towards the end of the game and we were really lucky not to lose this."
The home side scored early in the sixth minute through Kari Arnason before Alfred Finnbogason added the second five minutes to the break.
"The defence game worked well in the first half and people were ready. It needed a team like this [Ghana]," coach Hallgrimsson added. 
"These are great athletes with a lot of runners and they are good at the ball. This will be our opposition against Nigeria.
"People were struggling in the second half and we were unable to connect defence and attack."
Ghana, however, pulled one back through Kasim Adams Nuhu in the 66th minute, before Atletico Madrid star Thomas Teye Partey drew level three minutes to full-time. 
''We have picked a lot of positives in these two friendly games against Norway [3-2 loss on Saturday] and Ghana," assistant coach Helgi Kolvidsson remarked.
''Ghana has a very strong team and they are not at all different from Nigeria.
"It was good for Our Boys to play this game."