'Shut your mouth!' - Dani Alves fires back at Forlan over Neymar criticism
Last Updated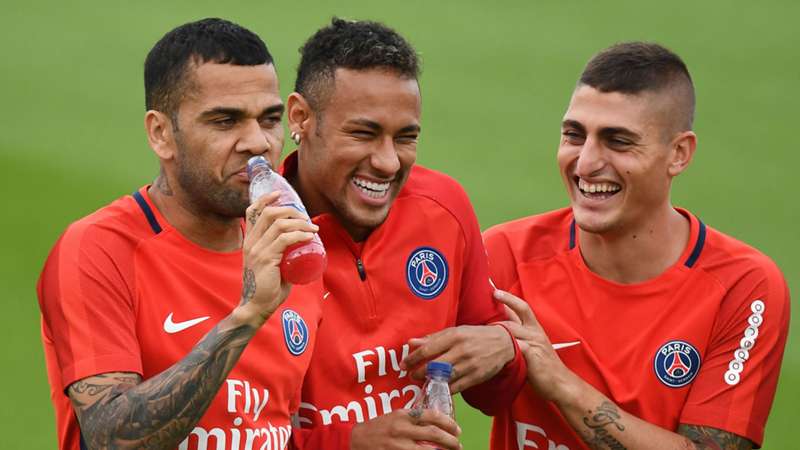 Getty
Dani Alves has lashed out at Diego Forlan on Twitter after the striker was critical of Neymar's treatment of Edinson Cavani at Paris Saint-Germain.
The PSG stars argued more than once over set pieces during Sunday's 2-0 win over Lyon. Neymar and Cavani were seen discussing who should take a penalty in the second half. Then, as they prepared to take a free-kick, Alves refused to give Cavani the ball and allowed Neymar to step up.
Although Alves insisted he wanted to take the set piece but had the ball stolen from him by his team-mate , Forlan called both Brazilian stars "little boys" for creating trouble with Cavani.
The ex-Uruguay striker said Neymar would never have treated Lionel Messi in the way he did his new strike partner and said it made no sense for Alves to get involved.
However, the right-back has since fired back on Twitter, urging Forlan to mind his own business.
"I don't know what game you all saw but I did not take the ball away from my teammate they took it from me," the 34-year-old said, linking to a quote from Forlan's interview.
"And just so you know, the last PSG free kick goal was scored by me... so shut your mouth and stop using my name for controversy."
PSG coach Unai Emery has said Alves tried to repair the relationship between the players over a meal , and clarified that from now on he will designate a first-choice set-piece taker.
The capital club have started the season with six Ligue 1 wins from as many games and face Montpellier on Saturday.