Premier League
Shaqiri relishing life under Klopp but warns there is more to come from Liverpool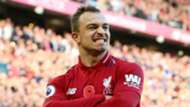 Xherdan Shaqiri admits he is loving life at Liverpool under Jurgen Klopp – and warned that his best at Anfield is yet to come.
The Swiss star has settled in well following his £13 million (€15m/$17m) switch from Stoke City in the summer, and picked up his second Reds goal in Sunday's 2-0 defeat of Fulham.
Signed ostensibly as a squad player, the 27-year-old is already playing his way into Klopp's thoughts as a regular starter. And given the ovation he received when substituted at the weekend, he's already a popular figure with supporters too.
Speaking after Sunday's game, Shaqiri was all smiles. Clearly, he's enjoying his football on Merseyside.
"I'm feeling good," he told reporters. "I'm fit, and I'm trying to give my best every time I get a chance.
"It's always nice when you get a standing ovation or the people are behind you. We have amazing fans and I scored again in front of the Kop so it was a nice feeling. I'm getting used to it!"
Shaqiri's goal secured Liverpool's best ever start to a Premier League season. Klopp's side, who sit second in the table, have taken 30 points from a possible 36 and remain hot on the heels of champions Manchester City.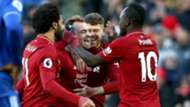 Sunday's win came off the back of a midweek disappointment against Red Star Belgrade in the Champions League. Shaqiri, of course, missed that game, left behind by Klopp for political reasons as Liverpool anticipated a hostile reaction from Serbian supporters to the Kosovo-born forward.
"He just wanted to concentrate on football," Shaqiri said when asked about Klopp's decision. "Everybody knows what happened. There is a very hot atmosphere there and so it was better to stay at home and just concentrate on football.
"When I went there everybody would be looking at me and so it was better to stay at home.
"I was fresh, I stayed here and trained with some other players. But it doesn't change a lot. I wanted to give a good performance [against Fulham] and yeah, it was a good one."
Suddenly, Shaqiri is a serious contender for a first XI spot. He has now started five games for the Reds, all but one of those coming at Anfield.  
Now, the challenge surely is to prove he can be trusted on a regular basis – home or away.
"I think in the end it is the coach's decision who is playing and against who," Shaqiri said, diplomatically. "He will change the teams against who we are playing and he chooses the team who he thinks is [in] the right moment and the right team to win games.
"In the end, if he decides to play you from the beginning, nice and good, but also if you are on the bench, try and come in and make an impact. In the end, only 11 players can play and we have a big squad and a good squad. Everybody has to accept the decisions of the coach and until now it's going very good and we are in a good way."
Shaqiri's presence in the side, be it as a right winger or in a more roving, central role, certainly seems to have perked up Liverpool, who look a livelier team with him in it. And with Mohamed Salah and Sadio Mane, who have 15 goals between them already, as well as Roberto Firmino, the Reds remain a fearsome attacking outfit – even if their forward players have not necessarily found top form as of yet.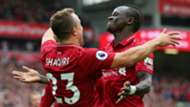 Asked if it was a pleasure to play with such players, Shaqiri replied: "Well, I played in Bayern Munich with Franck Ribery and Arjen Robben so I knew it already!
"It was nothing new for me. I knew already how good these very talented players were. We have a very good team, a young team also, so our process is going very well and I'm just proud to be part of this team.
"I try to give good performances and pay the coach and the fans back."
He added: "I changed teams and there are different mentalities and different visions, different goals. I have to adapt to the team, but the most important thing is to enjoy the football here.
"The coach wants that I enjoy the football, also to give my talent on the pitch [which] is of course in the offensive. He wants that I enjoy the game but also to try to make an impact and create some good chances for the team.
"We have to keep going, we had maybe the best start that Liverpool had ever and we just have to keep going, to work hard every day in training and to try to take that into the game day. We are in a good way."