Liverpool
Shaqiri giving Liverpool an extra dimension - Van Dijk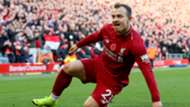 After the big build-up came the big disappointment.
With Liverpool leading Fulham 2-0 at Anfield on Sunday, and time ticking away, the Reds won a free-kick some 25 yards out.
Xherdan Shaqiri had a look, Trent Alexander-Arnold too. Then up stepped Virgil van Dijk to take control, much to the Kop's delight. The reaction of the home supporters was as if the ball were already in the net.
In the event it ended up nowhere near, Van Dijk sweeping his effort into the Fulham wall about halfway up. The groans could be heard across Stanley Park.
The Dutchman smiled as that moment was brought up in the post-match mixed zone. "I need to do little practice!" he laughed, before adding. "But all the free-kicks we took today were not good enough, it wasn't just me!"
By that point, of course, Liverpool were in control of proceedings. An iffy start had given way to an afternoon of quiet control, Mohamed Salah's first-half strike added to by Shaqiri's classy volley early in the second.
Shaqiri's impact at Anfield is growing. The Swiss star was given a standing ovation when substituted for James Milner late on, and is emerging as a fine addition to Liverpool's attacking armoury.
"He's been playing well," Van Dijk said when asked about his new team-mate. "He is working hard like everyone else and when he gets his chance he is doing well.
"He scored [today] but he's been pretty important in the last couple of games he's been involved, which is good for all of us."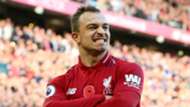 Shaqiri was arguably the least-heralded of Liverpool's four summer signings, but as the likes of Naby Keita and Fabinho, the latter of whom started against Fulham, have taken time to settle, the 27-year-old has hit the ground running.
And with Liverpool increasingly running into teams who are happy to sit in and defend deep, a player such as he should prove useful in the coming weeks and months, surely?
"Other players have that in them," Van Dijk said. "But Shaqiri is a guy with different qualities and with his left foot he is always dangerous.
"He has been doing well and we are very happy to have him."
As for the other end of the field, it was business as usual after a hiccup in Belgrade in midweek. The Reds' latest clean sheet means they have equalled their best ever defensive record after 12 games of a league campaign, with just five goals conceded.
Van Dijk, of course, has been integral to that improvement. The £75 million ($97m) man's partnership with Joe Gomez is developing well, though with Dejan Lovren and Joel Matip waiting in the wings, competition for centre-back spots is healthy.
"I just enjoying playing for Liverpool, it doesn't really matter who is standing next to me," the Dutchman insisted.
"I am happy to be out there; we have great centre-backs, Joel is not even on the bench and that says a lot about our squad as well. Me and Joe are getting along really well outside the pitch and that helps on the pitch as well."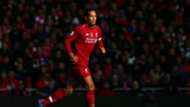 Victory on Sunday moved Liverpool back ahead of Chelsea into second place in the Premier League table, although Manchester City show little sign of slowing down in top spot.
Still, with 30 points from a possible 36, the Reds must be happy with their start to the campaign?
"We are winning games so we are doing pretty well and have made a better start than last season," Van Dijk agreed.
"We have to keep building on it, improve things. It is a good sign we are still improving but still doing well. We are trying to keep working.
"Can we catch City? That is something we still need to see. They are the champions and the best team in the league but we will try everything to be as good as we can. We don't have to look at others, we want to look at the games we have and the next challenge we have as Liverpool is Watford away, which is going to be tough
"For us the challenge is to win or try to win every game that is ahead of us. The season is very long. They are not going to win every game 5-0 and are going to have tough games like everyone else. We need to look at what we have ahead of us and that is more important than looking at someone else. It is the only way forward."