Bastian Schweinsteiger
Schweinsteiger keeps impressing teammates as he helps lead Fire to victory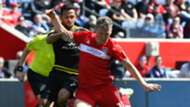 Bastian Schweinsteiger couldn't match the heroics of his MLS debut — which saw him score a goal in his first match with the Chicago Fire—but you can rest assured he enjoyed his second MLS game even more.
The Fire's 1-0 victory over the Columbus Crew was the club's first in three weeks and easily the team's most impressive of the young season. While Schweinsteiger wasn't the best Fire player on the day — that distinction goes to Dax McCarty — the World Cup winner was impressive again.
"The thing with Bastian that you notice is he makes everyone around him better," McCarty told Goal after Saturday's win. "He makes the game easier for everyone because he's got a soccer brain. Not many guys that you play with in MLS have a soccer brain at the highest level, at a world-class level. He just sees plays develop before they happen. It's always fun to play with players like that."
NYCFC's build-from-the-back philosophy backfires again
Schweinsteiger didn't have as much of the ball on Saturday as he had in last week's 2-2 draw against Montreal, but he was still effective. Working in the middle of a 3-4-3 formation, the German operated from deeper in midfield in a Fire lineup coping with the absence of suspended starting midfielder Juninho. The deployment kept Schweinsteiger further from goal, but he helped neutralize the Crew's midfield with his strength on the ball and positioning.
Schweinsteiger and McCarty worked excellently in the middle of the Fire midfield, which shouldn't really come as a surprise given the former Bayern star's pedigree and the former Red Bull star's status as one of the best midfielders in MLS.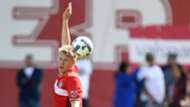 "It's easy to play with good players. It's even easier to play with world-class players," McCarty said. "For me, it's always refreshing when you get a chance to play with guys who have not only played at the highest level, but they've won at the highest level.
"You look at a guy like Thierry (Henry)," McCarty said, referring to the French legend he spent four years as teammates with as a member of the New York Red Bulls. "He's won the Champions League, the Premier League, the World Cup. There's not much he hasn't won and that's for a reason. It's because he's one of the best players in the world.
"Bastian comes in, he hasn't played in a year and a half, he steps into the team and immediately you see his quality. And again, that's because he's been one of the best players in the world over the last couple of years," McCarty said. "You look at their pedigrees, and you look at their CVs and you find yourself scratching your head at how anyone could question whether this guy was going to come in and help our team be successful."
Part of the reason for concerns about Schweinsteiger's arrival in Chicago was the fact that the Fire had signed a pair of central midfielders in the winter in McCarty and Juninho, and that Schweinsteiger wouldn't be a good fit. McCarty doesn't see that as a problem, and envisions a scenario where all three midfielders help each other play at a high level.
"Playing with Thierry was a little bit different because he's more of a striker," McCarty said. "With Thierry, you knew that if you gave him the ball he was going to dribble and make the killer pass and make something happen with his speed, athleticism and technical ability.
"Now, it's a little different playing with Bastian, because he's a very similar type player as me in terms of he's more of a deep-lying playmaker," McCarty said. "He likes to get the ball off of the defenders and likes to make the game from a little bit deeper. For me it's been a pleasure being able to play with him these past few games, and just kind of try to take little things from his game and see what he does really well and see how I can incorporate that into my game, but also see how I can feed off him and make him better."
Schweinsteiger's signing was met with plenty of criticism when it was first revealed, with critics suggesting it was money poorly spent to invest millions on a 32-year-old midfielder who has spent the past two seasons on the bench at Manchester United.
For McCarty, the signing was a no-brainer, and the U.S. national team midfielder insisted he had no doubts that Schweinsteiger would arrive in Chicago with the right attitude.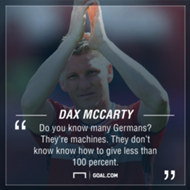 "He wasn't just going to come on vacation, and the main reason (I believed that) is he's German," McCarty said. "Do you know many Germans? They're machines. They don't know know how to give less than 100 percent. They don't know how to do things half-assed. When they commit to something, they do it all the way."
WATCH: Altidore tees up Giovinco
Two games into Schweinsteiger's stint in MLS, the signing is looking like money well spent. Fire fans will agree after watching their team show clear improvement with him on the field, and teammates like McCarty have already seen enough to make them believers as well.
"Now it's important that we, as a team, can make him feel as comfortable as possible so that he plays his best soccer," McCarty said. "I think we've seen glimpses, especially throughout 180 minutes that he's played, that he's a game-changer and he's capable of making plays that not many guys on the field are capable of making."