Sasikumar: Diversity is key for Fandi, if Singapore are to win the AFF Suzuki Cup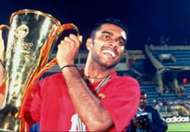 In an exclusive interview with Goal.com Singapore, former Singapore international R. Sasikumar shares what is needed for Fandi Ahmad to win the AFF Championships and the secret behind his  successful transition from soccer player to businessman.
Mention the name R.Sasikumar and fans of Singapore's national team will instantly tell you of his iconic 'Shoulder of God' goal against Vietnam in the 1998 Tiger Cup which earned a first-ever international title for the Lions. That goal brought him instant fame as a player and an assured place in the history of Singapore's footballing folklore.
These days however Sasi has swapped his footballing boots for polished office shoes as he is a respected businessman in the booming sporting industry, starting and heading his own firm, Red Card Global. He however retains a keen interest in the game which once served him well and was able to share with us his thoughts especially on the upcoming AFF Suzuki Cup in November, which will see Fandi Ahmad helm the national team as interim head coach.
"Firstly, Fandi Ahmad's appointment is a very convenient one to me. He is already part of the system now and he already has a contract with FAS (Football Association of Singapore). If FAS were to hire a foreign coach, it's impractical. Because it will be too time consuming as the foreign coach will need time to get used to the system and to sort out his contract issues, thus for an obvious lack of choice Fandi seemed the best solution."
Knowing what it takes to win a competition of such ilk, the former defender went on to share a vital requirement needed by Fandi if his team were to at least have a deep run in the tournament, or win it. Sasi was direct with his words and also took time out to land an indirect jab at the current state of Singapore's football affairs
"I really think diversity is at the heart of successful teams. They need to bring different players onto the pitch. Our dynamics in Singapore affords us three different races. And each ethnic group brings a different perspective to the game."
"Historically any team that has been successful in Singapore had diversity. You dig back into some data and you will find certain positions that saw key players bring perspective to it through their skill-set," recalled Sasi.
"Success leaves clues and the main issue if the coach can find that clue. And I hope for Fandi's sake he can find that clue if not it will be a serious problem. Diversity should be a priority."
In light of Fandi's appointment, the debate of local versus foreign coach for the national team has only continued to intensify. Sasi though feels detached from the whole argument preferring to lay it out on much simpler terms.
"I think let's be mature and go beyond that. We should appoint the best man for the job. It's not about local or foreigner; it's about having the right man come in. There is no guaranteed success if we hire a local or foreigner," stressed Sasi.
"For example, if we hire Jose Mourinho tomorrow. Is there a guarantee he can make us qualify for the World Cup? It's not a guarantee, which renders the whole argument dead. So, it should be the best man for the best job and leave no stones unturned. Hence, it could be a Fandi Ahmad or a Tony Adams."
When asked further if local coaches would have an advantage over foreign coaches, because they will be able to understand the complex structure of the local game. E.g. dietary requirements and cultural differences, Sasi was quick to dismiss that, offering an intriguing response.
"Sometimes people from the outside can see better. So biasness is eliminated. There's this term called confirmation biasness where people come in with a mindset and are stuck in their ways. And the tenure of Raddy Avramovic encapsulates my point. "
"Raddy came in and selected players who he thought were the best. But towards the end, he also had his issues because he already had that confirmation bias. So it's not a one size fits all. It's a process and it must be a well-planned process," explained the 43-year-old to Goal.com Singapore.
It's clear to see from his answers that Sasi is a towering figure not just in height but also intellect. And part of the reason for his smooth transition from football player to refined businessman is because of that intellect but more importantly hard work. A desire to fight harder than most.
"I always never saw myself as a national player. Because I wasn't the most talented. I didn't have the silky skills like many of my teammates.  Therefore I had to fight for it and it is exactly this mentality which has stuck with me and which I have brought into my current life."
"That's how I was able to make it. I came from nowhere, this boy from Yishun who was playing under the void decks and I never made it at any level. Even when I played organised football with the Premier League I was just a reserve but it's because all of these that the fighting mentality was ingrained in me. And basically it is the secret behind my success in sports and business."
Lastly, with such redeeming qualities, Sasi was questioned if he will ever make an attempt again for the FAS presidential post. Especially when journalists and fans alike believe he could be the messiah to save Singapore football.
"I am flattered people think of me in such a way. But that's a position of huge responsibility and power. Along with that comes the politics hence I don't know if I am the suitable candidate. But I am an athlete. I see it as black and white but that's not how it is in politics."
"I am a guy who calls it as it is and that might go down to well with people. Additionally the FAS president's post is a pro-bono job and I am at a stage where I still have to work for a living. However I am still flirting with the idea. And maybe in the next four years when I am in a stronger financial position, we will see. FAS can't have a broke president but ultimately I never say never."