Chelsea
'Sarri is a great coach, but not a world-class one' - Dalla Bona questions Italian's Chelsea credentials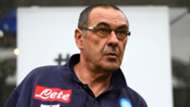 Former Chelsea and Napoli star Samuele Dalla Bona has questioned whether Maurizio Sarri will fit in as well at Chelsea as Antonio Conte.
The departure of Conte from Chelsea is thought to be coming imminently, with former Napoli boss Sarri in talks to take over as manager of the FA Cup-winning club.
Dalla Bona played 73 times for Chelsea and then helped Napoli get promoted to Serie A as they were forced to climb the divisions after bankruptcy in 2004.
The 37-year-old was impressed by Sarri's style of football at Napoli, but ultimately the Partenopei were unable to break through and win a trophy during his three seasons in charge.
"[Sarri] played great football all of the time," Dalla Bona told Goal. "[Napoli] had a good system but Juventus were able to play a worse style but still win every year.
"I think Sarri needs to make that last step to be a champion and a top coach. He is a great coach but he is not a world class-coach because he hasn't won anything – that means he isn't at the top.
"I like to see a good style of football but in the end, if you don't win but play good football, it doesn't mean a lot. Juventus don't play good but win all the time. I knew when Conte was going to Chelsea. I was sure that Conte is a winner and, in fact, he has won two titles and proved it already: the league and FA Cup.
Dalla Bona does not believe Sarri is a natural fit at Chelsea and has questioned whether the environment in London will be conducive to his success. 
"If Sarri goes to Chelsea, he hasn't won anything despite being a good manager. He needs to start winning something," Dalla Bona said. "I don't know if he will do it in Chelsea. It is a difficult club to go to right now, even under Roman Abramovich. I think it is difficult for Italians to adapt because you don't speak the language perfectly.
"For Sarri, at around 60 years old going to London, a change of environment, he speaks a little bit of English but I don't know if it will be an easy move for him.
"I am not sure about him, I know he is a good manager but I don't know if he is a good fit for Chelsea. Probably they will ask him to not smoke at Stamford Bridge or Cobham too!
"I had the good fortune of adapting well from Italy to London. I preferred London and English football actually, so it can be done. However, I am not as sure about Sarri at Chelsea. I was more sure about Conte coming to Chelsea because every year he wins something. He had shown the whole world he is a winner already, Sarri hasn't."
Sarri led Napoli to a club-record 91 points in Serie A in 2017-18, but it wasn't enough to win the Scudetto as Juventus got 95 points to win their seventh title in a row.
Napoli chairman Aurelio De Laurentiis has since announced that Carlo Ancelotti will manage the club next season.
Dalla Bona thinks that Ancelotti is a great appointment by his former club and a statement that they will fight to win the title again next season.
"It has been a real shock because I didn't expect that De Laurentiis could get Ancelotti," Dalla Bona added. "Sarri has been in Naples for three years doing very good work but football is strange. I think De Laurentiis knows that now is a time to try and win something so he took one of the top managers in the world.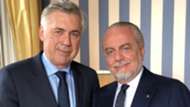 "De Laurentiis is giving them a great story. He took them from Serie C and now they are always second in the league. For me, it has been great to be part of the story, to win Serie B and score a few goals and then football changes very quickly. I think De Laurentiis needs to be supported because he is trying his best to make the club into a winning team.
"It was unbelievable that they didn't win the Scudetto. It is only because Juventus is an incredible team. I thought Napoli could win it but in the end it was unbelievable that Juventus won it again. Juve are also a special team. Napoli taking Ancelotti shows Serie A that they really are ready to win something."