KPL
Sam Ssimbwa: I have forgiven 'Pamzo' for punching me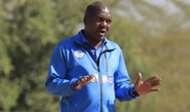 Sofapaka coach Sam Ssimbwa says he has no grudge against his counterpart from Posta Rangers despite an alleged physical assault. 
Reports have it that the mailmen coach Sammy 'Pamzo' Omollo punched the Ugandan tactician on the face in a match between the two sides that ended in a one all draw.
Ssimbwa has however, revealed that he will be available in case the Independent Disciplinary and Complaints Committee (IDCC) asks him to testify.
"I have no problem with 'Pamzo' at all; the truth of the matter is that I had already forgiven him. It could have been an assault case in the police but I decided against it. But if the IDCC wants me to go testify, I will for sure go, but honestly, no grudge between me and him, I let it go," Ssimbwa told Goal.
'Pamzo' had initially denied the allegations, but the IDCC proceeded to institute charges against him for the unsporting behavior.
document.write("");