Arsenal
Rob 'Holdini' Holding is the future of Arsenal & England - and he cost £45m less than John Stones!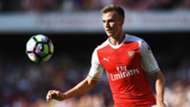 ---
COMMENT
---
If you needed to know anything about the confidence of 21-year-old centre-back Rob Holding, then just check out the 66th minute of Arsenal's 2-1 FA Cup semi-final win over Manchester City on Sunday.
The defender, who had only made two Premier League appearances previous to his start at Wembley, shielded the ball from City's goalscorer Sergio Aguero before dribbling past him and inviting a tackle from the Argentine.
The significance of 10-second clips in 90-minute football matches can usually be overstated but that individual moment provided a glimpse into what kind of player Arsene Wenger has on his hands: self-belief in abundance, composure on the ball and an intelligent reader of the game. Having already impressed in the recent away victory at Middlesbrough, Holding put in another commanding performance against Aguero and Co. at Wembley.

Wenger: Ox injury no worry
Holding was signed from Championship side Bolton for £2.5million last summer and it's fair to say a large chunk of Arsenal fans weren't overawed with 'another youngster' being recruited at a time when experienced players were clearly needed to bolster the first team squad.
The arrival of Shkodran Mustafi from Valencia certainly went some way to calming the nerves of the sceptical supporters but it now appears that Holding's impressive form due to the German's absence through injury could pave the way for him to play every game until the end of the season.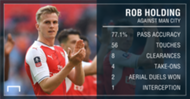 Arsenal's improved collective display against City was testament to the renewed belief which has become evident under the 3-4-2-1 formation. An example could be seen in the second half of Sunday's match when Aguero beat Koscielny only for striker Olivier Giroud to cover him at the edge of the Gunners' box.
That degree of work ethic has been sporadic in Arsenal's 2017 performances and it is clear that the formation change has made an impact in terms of reinvigorating the players and their individual games.

Sanchez a slow starter - Wenger
Per Mertesacker is now fully fit and ready for action yet he cannot get into the starting line-up ahead of Holding, Gabriel or Koscielny. Supporters called for his return to the first team following several defeats which exposed Arsenal's weakness at set-pieces, yet it is young Holding who is now carrying the mantle as a defender whose maturity level and intelligence on the ball could see him rewarded with a promotion to the England senior squad sooner rather than later. 
City's injured defender John Stones wasn't involved in the cup semi-final but his £47.5million transfer fee is beginning to look overinflated and somewhat ridiculous when you compare it the acquisition of Holding for a mere £2.5m.
Although Holding has played fewer games than Stones in the league this season, there appears to be a considerable amount of similarities between the two defenders and, on Sunday, the former Bolton man was undoubtedly the best defender on the pitch. 
A post shared by Rob Holding (@rholding95) on Mar 19, 2015 at 8:16am PDT
Wenger's now famous quote about Holding from earlier in the season now rings more true than ever. Speaking after Arsenal's 0-0 draw away to reigning champions Leicester, where Holding put in a solid shift alongside Koscielny in defence, the Frenchman was left visibly frustrated at the lack of questions about his impressive young defender and responded with a retort that will be remembered for years to come.
"Unfortunately no one speaks about the performance of Rob Holding," Wenger lamented. "You should be happy, he is English and 20 years old. I am sorry he didn't cost £55 million, so he can't be good."
Bale's Real career more Kaka than Cristiano
And he's been proved right so far. Holding hasn't put a foot wrong in an Arsenal shirt but when the inevitable mistake does occur he shouldn't be lambasted for it. He's shown enough maturity and footballing intelligence in the games that he has played to confirm that he has the potential to become a regular for club and country.
While the inconsistent form of Wenger's men has seen the defence heavily criticised this season, it's apt that as the campaign draws to a close there may be a new kid on the block who is showing the hunger to solidify the Gunners back four. And a cut-price fee too!