Borussia Dortmund
Reus urges Pulisic to stay at Borussia Dortmund for 'many years'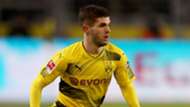 Marco Reus hopes Christian Pulisic ignores the advances of clubs across Europe to remain at Borussia Dortmund for "many more years".
The 19-year-old attacking midfielder has impressed in Germany since arriving from the United States three years ago, leading to speculation surrounding his future.
Liverpool and Tottenham have been credited with an interest recently, although the player's father dismissed such talk.
Liverpool coach Jurgen Klopp admitted he is an admirer of the USA international and hailed him as a "fantastic player" but distanced the Reds from making a move for him.
Pulisic has just two years left on his contract at Dortmund, but Reus would like to see his fellow star commit to the club for even longer.
"Christian is a good guy, he has so much quality," Reus told ESPN.
"I hope he plays [for Dortmund] for many, many more years, but we will see over the next few years."
Like Pulisic, Reus has been consistently linked to a move away from Germany, but the 29-year-old has no desire to abandon Dortmund before taking them back to the top of the Bundesliga.
"When you are 28, 29 years old, you are aware that this is going to be your last big contract of your career," he added.
"You have to make up your mind: What is it that I want? Do I want to find something new, a new culture, a new league, a new language, new team-mates, a new city? And what is it that I need to be happy? What is it that I need to perform?
"After all these evaluations, the choice was always Dortmund ... I see and I believe in the potential the club has and I believe in the potential to have an evolution as a club and to follow a new path."
Reus' career has been plagued with injury in recent years, limiting him to just 11 league appearances last season. But the attacker insists there are always bigger things to worry about than his own fitness.
"I think if you're not strong, in life or in football, not every day is going to be going up and seeing the sunshine. I was injured many times but life is like this, and I have to accept this," Reus said.
"[When] I was injured, I was thinking, 'OK, I'm injured, but all the people out there, they are not injured, they are sick, they have real health problems.' Of course you have bad days when you are injured, but in the end it's just a torn ligament."