Transfers
REAL MADRID are ready to pay £79m for Mauro Icardi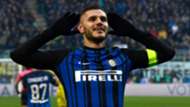 Real Madrid are reportedly interested in Argentinian striker Mauro Icardi and are willing to pay upwards of 79 million GBP for his services, as per sources coming from Spain.
This comes after Real Madrid's offensive struggles in the league this season, with their latest failure coming up against Athletic Bilbao in a nil-nil draw.
This meant that Real Madrid failed to catch up with Barcelona who also failed to win this week, leaving the Madrid side in fourth and eight points behind the league leaders.
The offense has been faulted, with only six goals scored between Karim Benzema, Gareth Bale and Cristiano Ronaldo in the league this season.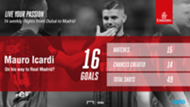 Mauro Icardi, on the other hand, has done far better in the
Serie A
where
Inter
Milan are challenging for the title alongside
Juventus
and
Napoli
.
16 goals in 15 games was enough to put him at the top of the list for world strikers this season, and Real Madrid are keenly interested in adding firepower to the attack which has relied on the currently stale 'BBC' for too long.