RB Leipzig
RB Leipzig are not looking to emulate 'random' Leicester, says Bernardo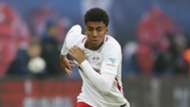 RB Leipzig star Bernardo has admitted that while Leicester City have proved smaller clubs can upset Europe's giants, he would rather see his club go on to achieve sustained success in the Bundesliga. 
The 22-year-old Brazilian joined Leipzig at the start of the 2016-17 season, and made 22 appearances as the new boys shocked the Bundesliga in finishing second behind Bayern Munich. 
Their run has been compared with the heroics of Leicester City, who won the Premier League as rank outsiders back in 2015-16. 
But according to Bernardo, his club's goal has to be consistency rather than a single flash-in-the-pan triumph. 
"Leicester encouraged lots of smaller teams to try to reach something bigger in their respective championships," the youngster explained to Goal.
"But I see a big difference between the two projects. Leicester achieved something that Leipzig possibly may never will, of conquering the title, but I saw that much more as [being] random.
"Of course it wasn't just luck, but I can see more planning at Leipzig." 
Indeed, early signs from the current season suggest that last year's second place was no fluke, as after nine Bundesliga games so far Leipzig occupy third place, just one point shy of Bayern. 
The two sides also lock horns in Wednesday's DFL Pokal clash, a game which Bernardo is looking forward to.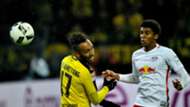 "Apparently, Bayern are not in the same form from last year. But the team is basically the same," he added.
"This year it seems more balanced, and as Borussia [Dortmund] is getting stronger maybe this intimidates Bayern a little more and leaves the championship more open. We'll try everything, but in terms of the squad you cannot compare Bayern with other teams... but everything is possible in football.
"We have to give our best to beat Bayern. It would be an important victory to symbolise that our team is here to stay."
Bernardo is especially excited at taking on Arjen Robben, and suggested that as a two-footed defender he is capable of handling the Dutchman's infamous move of cutting inside that has caught out so many full-backs over the years.
"It's true, it would be the perfect situation... last year it happened. I played as a left-back. The game ended 5-4, a crazy game, and he had some difficult times when I was pressing him," he recalled.
"But at the end, during a counter-attack, he faced a full-back one-on-one and scored the winning goal for Bayern."