World Cup
FIFA World Cup 2022: Qatar to hand stadium workers $5m repayment package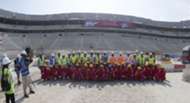 Workers involved in the construction of stadiums in Qatar for the 2022 FIFA World Cup are set to be given almost 12 million Qatari Riyals ($5m) over the next two years as compensation for recruitment and hardship fees which may have been paid in the past.
The step has been driven by the Supreme Committee for Delivery & Legacy (SC) – the organisation responsible for delivering tournament infrastructure for the 2022 World Cup. A number of contractors working on SC projects in Qatar will start reimbursing the workers as part of a 'Universal Payment' system.
The payment system is designed to address the needs of legacy workers who were hired before the introduction of the SC's Workers' Welfare Standards (WWS). The WWS prohibits the charging of recruitment fees. 
Such a groundbreaking step was reflected in the SC's third Annual Progress Report. 
 
H.E. Hassan Al Thawadi, Secretary General of the SC, said: "The significance to reimburse workers who paid recruitment fees should not be underestimated. Unethical recruitment is a global issue and an area many countries all over the world struggle to manage. All too often, the very people who have left their homes to provide for their families are the ones exploited.
 
"We have been steadfast in our belief that this World Cup can be a catalyst for change, both in Qatar and in other parts of the world. Recruitment fees is a hugely complex issue, yet the SC and several of our contractors have agreed on a mechanism to ensure that our workers are reimbursed for the hardships they may have endured when coming to Qatar to work."
Contractors like Larsen & Toubro (Al Rayyan Stadium), Nakheel (training sites/ Aspire Turf Nursery) Petroserv (Doha Port Project), HBK (Lusail Stadium) and OCPs Twelvers and Manforce have all agreed to compensate the workers. 
SC have introduced a number of measures for worker welfare including top-notch accommodation, dedicated grievance hotlines, Worker Welfare Forums, emergency medical facilities, nutritional study and health & safety training.