Liga MX
Previous playoff Clasicos linger ahead of Liga MX quarterfinals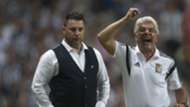 The echoes are strong. Just one year ago, Tigres went through a poor campaign just a tournament after winning the Liga MX title, managed to find their way into the playoffs and came up against crosstown rival Monterrey. A year earlier, above-average campaigns for both Guadalajara sides saw them meet in the quarterfinals.
Memories of both series linger as the matchups have appeared once again in this week's Clausura playoffs, with the Clasico Regio taking place Wednesday and Saturday and the Clasico Tapatio running Thursday and Sunday.
Questions remain for U.S. U-20s
Last year, Monterrey rolled into the Volcan and bossed Tigres en route to a 3-1 road victory that made early goals from Jesus Duenas and Rafael Sobis in Monterrey nearly moot, especially after Juninho earned his second yellow card. Cesar Montes converted off a set piece shortly after the Brazilian center back — and coach Tuca Ferretti — were sent off. But despite similar seedings and tournaments, Tigres enter the postseason in their best form of the year while Monterrey fell to Veracruz and Morelia in the final two rounds of the season.
While Monterrey coach Antonio Mohamed wasn't deploying his strongest sides in either of those matches, things will not be as easy as they were in last May's meeting with the pressure on after he signed a contract extension earlier this month. While Edwin Cardona and Dorlan Pabon will pressure Tigres, finding three goals like the first leg of last year's series could be tough. Ferretti's back line hasn't conceded multiple goals since a January defeat to America — a 20-match streak across all competitions.
The 2015 series between Atlas and Chivas, unfortunately, may be best remembered for bad behavior from Atlas fans, who broke down barriers and invaded the pitch once it became apparent their side was going to get knocked out of the quarterfinals.
Thankfully, plenty has changed since that day two years ago. For one, Chivas' hat-trick hero Marco Fabian has moved on to Europe, and both clubs are under new management after Tomas Boy and Chepo de la Torre were shown the door. The changes in the technical areas have been good for the Guadalajara sides, with "Profe" Cruz getting plenty out of an Atlas team that had looked dead and buried after Rafa Marquez's back injury forced the club to look for new options. But forward Matias Alustiza acclimated to the team and found his scoring form, while Luis Robles and Javier Salas helped link the back line and the midfielders — something that had been lacking since Marquez's injury.
Schweinsteiger reveals MLS frustration
And Chivas have lifted two Copa MX trophies under Matias Almeyda's watch, but a league title would be much more meaningful. The Argentine's attack has struggled with Angel Zaldivar and Rodolfo Pizarro both injured, and Chivas enter the postseason having just three points in their last five matches. 
Despite the recent references, it's rare to have these matchups in the Liguilla. It's just the fifth time in the short-tournament era for the Monterrey rivals to clash in the Liguilla and the fourth for the Guadalajara rivals. This time around, it's hard to definitively pick favorites in the two ties. The matchups are enticing and have the potential to echo in the memories of Liga MX fans for perhaps even longer than the 2015 Clasico Tapatio series or last year's Clasico Regio.