Premier League
Premier League UK TV rights: How to get access to every football match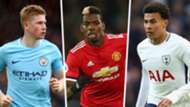 Not since before the inception of the Premier League has England's top-flight football been available on terrestrial TV and with so many different platforms and ways to watch these days, things can become confusing very quickly.
At present, rights to broadcast Premier League matches in the UK are limited to BT Sport and Sky Sports, with the latter holding the lion's share of the 168 available clashes.
There is, however, a way to consolidate everything into one easy package, as well as being able to pay for one-off matches or even get a weekly pass if you have your eye on a couple of games within a few days of each other.
Goal breaks down what's available:
---
Sky Sports TV package
---
For a time, Sky had a monopoly on the Premier League's matches, but they now share the rights with BT Sport. However, Sky still broadcast far more than their competitors – 126 games in total.
That includes Saturday's 12:30 kick-offs, Sunday's 13:30 and 16:00 kick-offs and all Premier League matches shown on weekdays.
As a new customer, the cheapest possible way to get access to all of Sky's Premier League matches is their Sports and Entertainment package which, at the time of writing, will set you back £40 pounds plus a one-off installation fee of £20 for their TV box. 
It is possible to add BT's additional matches to your Sky box but it must be done through a third party (Virgin) and costs £25.99 per month plus a £30 activation fee.
See here for an up to date list all of Sky's options.
---
BT Sport TV package
---
What BT Sport lacks in Premier League coverage (42 matches compared to Sky's 126) it makes up for in Champions League and Europa League coverage, so it's really up to the customer to decide what they prefer if they want to pick between the two.
BT's coverage of England's top-flight includes Saturday's 17:30 kick-offs and Sunday's 12pm kick-offs.
The cheapest way to get your hands on BT's games means getting a standard internet package, including line rental for £28.49 per month, with a one-off activation charge of £59.99. Or if you want the speedier, fibre-optic internet version, it's £39.49 per month and a £79.99 activation fee.
See here for an up to date list of all of BT Sport's options.
---
Virgin Media TV package
---
If, like Freddie Mercury, you want it all, the easiest and cheapest monthly option is Virgin, whose sports package includes both BT and Sky Sports' matches for a fee of £64.50 per month with a combined installation and activation fee of £60.
At present, they are offering new customers a bundle which includes all of the above plus line rental and broadband for £75 all in. If you want everything and to pay it all at once, this is the way to go.
See here for an up to date list of all of Virgin Media's options.
---
Premier League on Now TV
---
Maybe contracts aren't for you, or you just don't want to pay for matches you're almost certain to be snooze-fests. If that is the case, you can watch all of Sky Sports' matches through Now TV, who offer a pay-as-you-go type service.
A day pass will cost you £7.99 and lasts, you guessed it, 24 hours, while a weeklong pass will you get you seven full days and a month will set you back £33.99.
It's worth making clear that Now TV does not have access to any of BT Sport's matches.