PSL
Police investigate claims of fake tickets following Soweto Derby stampede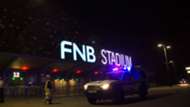 An allegation of fake ticketing in a stampede that led to two fatalities at the FNB Stadium will be investigated, the South African Police Services (SAPS) confirmed on Sunday. 
The names of the two football fans who lost their lives on Saturday are yet to be revealed, but captain Mavel Masondo said they were both men, aged between 30 and 31. 
According to Masondo, a case of inquest has been opened to establish what caused the stampede. 
Reports on the ground suggest that a group of fans tried to gain access to the venue just before the stampede occured without proper match tickets. 
"We have opened a case of inquest. In our inquest we will try and establish what caused the stampede," Masondo told News24. 
"There is that allegation [around fake tickets]," he said.
Stadium Management SA's Jacques Grobelaar told Eyewitness News (EWN) that a CCTV footage showed that a group of supporters tried to forcefully gain access to the stadium. 
"A group of people were trying to reach a perimeter over a period of 20 minutes. They breached one of the emergency gates and in the process, they fell down and people walked over them," said Grobelaar. 
Some of the 19 fans who were injured during the incident have already been discharged, while two are in critical condition.