Paul Pogba
'Pogba is too inconsistent' - Man Utd star's future unclear, admits Kanchelskis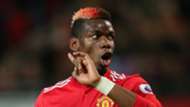 Paul Pogba is "very inconsistent" and facing an uncertain future at Manchester United ahead of another summer of change, says Andrei Kanchelskis.
The French midfielder is yet to justify a standing as the Red Devils record signing, with questions continuing to be asked of his £89 million fee, best position and off-field antics.
An inability to produce his best on a regular basis, while steering clear of niggling knocks, has led to the occasional benching this season and the need to quash talk of a rift with manager Jose Mourinho.
It remains to be seen what the future will hold for the 25-year-old, with former United winger Kanchelskis among those prepared to admit that anything could happen amid talk of a possible move elsewhere.
He told BetStars: "I don't know if Pogba will stay. He's a good player, but is very inconsistent. Sometimes he plays well and other times he doesn't play well at all.
"I don't know if he will stay, it depends on which players Manchester United buy in the summer. They need to make changes ahead of next season.
"Pogba will need to play more next season, if he were playing under Sir Alex Ferguson he would definitely be playing more as they played more attacking football."
Mourinho is considered to be part of the problem for Pogba, as the Frenchman does not fit his favoured system, and Kanchelskis admits the Portuguese is markedly different to an iconic coach he worked under at Old Trafford.
Quizzed on whether there are any similarities between Mourinho and Ferguson, the Russian said: "No, they're from two completely different schools.
"They're very different coaches with different mentalities. Mourinho is Portuguese and they have a different system of playing, and of course Ferguson was the best."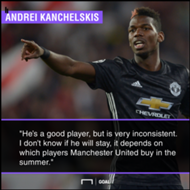 While Mourinho may have different methods, he did deliver three trophies last season and remains in the hunt for FA Cup glory this term.
There is also the promise of a more sustained Premier League title challenge to come, as long as United can close the gap on arch-rivals Manchester City with their summer transfer business.
Kanchelskis added on United's chances in 2018-19: "It depends – if Manchester United buy new players, more attacking players with a new system of playing, they may finish higher.
"Manchester City are a stronger team who play better football now. If next season, after the World Cup, Manchester United buy new, fresh, quality players then they could be champions."
For now, United's only challenge to City will come in Saturday's derby date at the Etihad Stadium which will see Mourinho's men trying to delay a Premier League title party for Pep Guardiola's runaway leaders.