Singida United
Pluijm keen on permanent deal for Mudathir Yahaya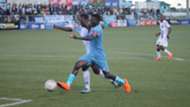 Singida United boss Hans van der Pluijm is keen to sign on-loan midfielder Mudathir Yahaya on a permanent deal from Azam FC but he revealed that there isn't any decision made yet.
The midfielder has been a revelation at Namfua Stadium since joining the Singida based club on a season-long deal having helped his team to sit fourth on the table.
The Dutchman told Goal that, there is no clear decision at the moment about the future of the midfielder who will be a free agent at the end of the season. 
"He is very a good player, as a team we need good players in order to do better, so we will decide on whether to sign him at the end of the season, our focus now is to win matches" said Pluijm.