Manchester United
Perfect partners, so can Mourinho afford to keep picking Rooney and Ibrahimovic together?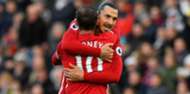 ---

COMMENT
---
When Zlatan Ibrahimovic arrived in Swansea with Manchester United earlier this month, he hadn't found the net in six matches and had scored just one in his last 11. Wayne Rooney's form, meanwhile, had deserted him so markedly that he was starting his first league game in seven weeks after being dropped by Jose Mourinho in September.
What followed was an advert for the inclusion of both players in the regular starting XI. The pair supplied two crucial touches each in the build-up to Paul Pogba's opener, then Rooney crossed from the left to Ibrahimovic to steady himself and fire home a second goal. Before half-time Rooney picked up the big No.9's knock-down then carried the ball forward before returning the ball to Ibra for United to take a 3-0 lead.
Why United are destined to finish sixth
Having both missed the 1-1 draw with Arsenal they were back at it on Thursday against Feyenoord. First, Ibrahimovic held on to the ball long enough for Rooney to stray into the area, then delivered the pass which allowed the England skipper to loft the ball beyond Brad Jones. Then Ibra played a neat pass for Rooney to cut back first time to Juan Mata for the second.
Add in the Swede's attempted pass to Henrikh Mkhitaryan which was diverted in by Jones, and between them the pair have 11 goal involvements in two starts.
It is natural that two of the highest-profile and most experienced members of the United squad should be thrown into the spotlight when things are not going right, and the players themselves have admitted that their form of late has not been what it could be. "I had a couple of games I didn't score, I felt I was unlucky, in some moments I was not focusing like normally I should do," said Zlatan this week.
Rooney had admitted previously: "Of course you want to play, but I'm not starting at the minute at Manchester United and I have to work hard to try to get back in the starting XI. I had a bad game at Watford [before being dropped]. I played bad, I know that and I understand that. I think if the manager was picking the next team on the back of that, I understand not playing."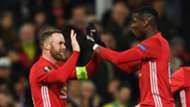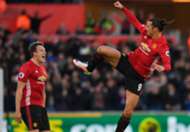 On the face of it, Rooney in particular still has a lot of proving to do. In a team trying its hardest to play fast, flowing attacking football, the club captain too often slows the tempo with heavy or over-elaborate first touches. Yet somehow, when finding himself is close quarters with Ibrahimovic, something clicks for Rooney. One goal and four key passes in goal-scoring moves in two starts is hard to overlook.
The same is true of Ibrahimovic too. Every one of his eight goals this season have been scored with Rooney in close proximity to him. Even when the 31-year-old has not supplied the final pass, his very threat has helped to take some of the opposition's attention away from the giant front man. The 35-year-old has had more energy and verve in the attacking line behind him when Rooney has been left out, but rarely has he had somebody reading and reacting to his hold-up play unless the England man has been on the pitch.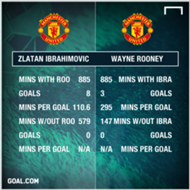 So what does Mourinho do in response to this? Clearly, the likes of Mkhitaryan, Mata, Marcus Rashford and Jesse Lingard have more of the creative ability in the attacking midfield line which allows United to fashion more chances, but Rooney's inclusion seems to make a big difference in terms of the likelihood of the team taking a decent proportion of such opportunities.
Mourinho is still trying to find the right balance in his Manchester United side, and he has yet to figure out what his best XI is. Perhaps that could yet work in Rooney's favour. In a side which often appears to have lots of individual talent which is not quite coming together as a unit, Ibrahimovic's connection with Rooney is the closest the manager has to a fully-functioning partnership anywhere in his squad.
So at a time when United are in desperate need of Premier League points, does Mourinho overlook arguably more deserving and more fitting choices behind Ibrahimovic and keep Rooney in his side for the time being? The latest evidence certainly suggests that the two go together like Batman and Robin. One without the other just hasn't worked so far for United.