PSL
Parker on his partnership with Paez at Kaizer Chiefs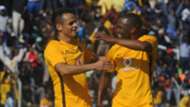 Kaizer Chiefs striker Bernard Parker believes they are looking solid ahead of the new season following their Carling Black Label win over Orlando Pirates on Saturday.
"It was a boost for us on the field and I'm happy that we came out with a win," Parker said after the game.
Parker is happy with his understanding with strike-partner Gustavo Paez, who grabbed an assist in the encounter.
However, he feels they are still not at the level he requires.
"With my frontline, we created a lot of chances. We tried to break quick and we did, but as we got into the final third we can be a little more ruthless, just 10 percent more. We would come out with a lot of goals, but other than that, it's a learning curve for us. We are looking good and looking solid. This year we want to achieve our goals," Parker said.