Harry Kane
'England must build around Kane and Alli' - Cole hails Spurs stars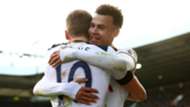 ---
EXCLUSIVE
---
Joe Cole has spent his career battling Tottenham Hotspur with both Chelsea and West Ham United, but he reluctantly admits that Harry Kane and Dele Alli can help England to earn World Cup glory. 
Kane has been in scintillating form for club and country of late, with his latest efforts for the Three Lions taking him to 32 goals for 2017, while Alli was key in Tottenham's second title push in as many years, despite being just 21 years of age. 
Cole: Lukaku fits Chelsea perfectly
While both men have impressed domestically, Gareth Southgate's England side have stumbled slightly after enjoying a positive start to his time as manager - going down 3-2 to 10-man France after drawing 2-2 away to Scotland. Cole remains positive, though, that the talent is there for future success to be enjoyed.  
"For me, if I was England manager, I think Harry Kane and Dele Alli are the players you have got to build your team around. We have got quality. A fit [Daniel] Sturridge gets into any top team in the world," he said.
"[Jack] Wilshere is a top player but you have to make sure their bodies are right. There's enough quality to win you games but certainly Kane and Alli, put your arm around them to and say, we are going to build the team around you.
"There are not many strikers in world football as good as Kane at the moment. Dele Alli is developing into one of the best No. 10s/9.5-type players around. [It hurts] more than you would know [to say it], it is a tough one.
"I admire what they have done at Tottenham, from a professional point of view. Only time will tell whether that group of players go on and win things but certainly the future is bright for them. For England, the future for England is Kane and Alli."
Cole was capped 56 times for England and is preparing for a future in coaching, while also playing for the Tampa Bay Rowdies in the United Soccer League.
How Tampa restored Cole's passion
The 35-year-old thinks that with expectation so low around the England team, and the FA embracing methods which have worked elsewhere, an improvement in fortune may be around the corner after poor showings at recent competitions. 
"With England, I am very excited about the group. I know they haven't done well in the past three tournaments but I am very excited," he added. "They have pace, ability and the expectations are very low at the moment.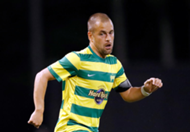 "It has got to benefit these young lads. I like the team, I like the players. I think Gareth is a good manager and he has the strength of knowing them. He has worked with all of them before. It has seemed to have worked with Germany [taking over from the youth team].
"Not only that, you look at England from the U21s downwards, outstanding results that people have been getting there. I think from Dan Ashworth onward, the coaches have been doing a fantastic job and I think we are going in the right direction."