Super League
Pahang play strugglers Pulau Pinang, Kedah take on Kelantan in MSL round five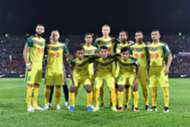 ---
BY        ZULHILMI ZAINAL       Follow on Twitter
---
After the second round of the FA Cup were played out over the mid-week, Super League (MSL) sides return to league action this weekend.
The first match of the round will take place on Friday, between Selangor and Felda United FC. Read the preview here.
On Saturday, Perak will host defending champions Johor Darul Ta'zim FC at the Perak Stadium. Click here for the preview. 
KELANTAN VS KEDAH
The Red Warriors look to move on from their shock FA Cup defeat to second-tier club PKNP FC, when they host high-flying Kedah, who defeated Kuala Lumpur 4-2 in their cup encounter.
Despite the cup exit, Kelantan, currently fifth with six points and two games in hand, can rely on their perfect record in the league this season, having recorded two wins in as many matches. League leaders Red Eagles, on eight points, meanwhile have recorded two wins and two draws.
However, despite having the home advantage on Saturday, Kelantan's recent record against the visitors are not entirely convincing. Kedah have won four out their past five encounters, with Kelantan winning the remaining encounter.
But Kedah's record on the road, as well as Kelantan's league form, suggests that the match may end in a draw. Both of Kedah's league draws came in away matches; against JDT and Felda.
The homeside head coach Zahasmi Ismail can be expected to field Lebanese striker Mohammed Ghaddar, who has scored three goals in two league matches, as well as veteran forward Indra Putra Mahayuddin, who has scored one goal in each of their past two matches.
Kedah boss Tan Cheng Hoe meanwhile will surely give midfielder Farhan Roslan his second consecutive start, after the youngster collected three goals from his side's two most-recent matches. The player Farhan has been replacing, Syazwan Zainon seems set to miss the match due to his injury.
Cheng Hoe told Astro Awani that his squad will be arriving in Kota Bharu with the intention of capturing their first three points away from home this season; "We want to win in Kelantan and we have two or three more days to prepare, as we know they have won their last two games."
SARAWAK VS MELAKA UNITED FC
Across the South China Sea, the Crocodiles will host the Mousedeers at the Sarawak State Stadium, after both sides recorded a win in their mid-week cup matches.
Sarawak, currently in ninth with four points, are looking to capitalise on the morale boost their two back-to-back wins have provided. They have won one and lost one league match, and lost two.
Melaka, in eleventh with one game in hand, now want to improve their league form, having collected only one point out of three matches.
As this is the Mousedeers' first season back in the top division after almost a decade, the two sides have not met since 2010.
Against Melaka, Sarawak boss David Usop will likely rely on the partnership of foreign strikers Mateo Roskam and Mark Hartmann, who have scored a combined six goals between them in the past two matches.
Melaka head coach Eric Williams will probably field South Korean midfieler Jeon Woo-young, who has collected two goals so far, while waiting for captain and forward Ilija Spasojević to rediscover his finishing touch.
Williams is fully aware of the threat that Sarawak can pose this Saturday. He told SinarHarian.com; "Sarawak's six goals against MISC-MIFA in the FA Cup have proven what they can do."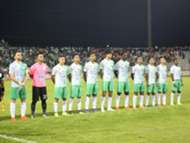 Melaka United. Photo by Suhaimi Mohamad/CSN
T-TEAM FC VS PKNS FC
Fourth-placed Titans (seven points) host sixth Red Ants (6) at the Sultan Ismail Nasiruddin Shah Stadium, with the hosts having won their Tuesday FA Cup encounter, and the visitors losing theirs.
Their records in the league are almost similar, with T-Team having bagged two wins, one draw and one defeat, while PKNS have collected two wins and two defeats. Similarly, both clubs' two wins came in their last two league matches, although T-Team defeated strugglers Pulau Pinang and then Melaka, while PKNS performed the Herculean feats of slaying Selangor and then the star-studded Perak.
Both sides did not meet last season as PKNS were only recently promoted, but their past five encounters ended in three wins for PKNS, while the remaining two were won by T-Team.
The Red Ants do have a good record playing away to the Titans, having bagged three wins out of the past five matches that were hosted by the East Coast side, with the remaining two won by T-Team.
T-Team head coach Rahmad Darmawan is likely to start with forwards Mamadou Samassa and Farhod Tadjiyev leading the attack, as both of them have scored four goals combined this season. But Samassa maybe taken off penalty duty, considering the former Marseille man missed two penalties in their recent cup match.
Whereas for PKNS boss Elavarasan Elangowan, despite his forwards' failure to find the back of the net in their cup match against Melaka, leading to their 1-0 defeat, he is likely to allow Safee Sali, Patrick Wleh and Lucas Espindola to recapture their forms against T-Team, as the trio had found the net seven times against Selangor and Perak.
The threat posed by the trio is something Titans custodian Izzuddin Muhamat Hussin is fully aware of. He told BHOnline: "PKNS have very good foreign strikers and they will pose a threat to us, if they are not marked closely."
PAHANG VS PULAU PINANG
Second-placed Pahang (seven points) host bottom-placed Pulau Pinang (0) at the Darulmakmur Stadium, in a match that is set to be a one-sided affair.
Despite having lost away to Kedah 4-1 in their last league match following two wins and a draw, the Elephants seemed to have restored their confidence with a gritty 4-2 come-from-behind away win over JDT II in the FA Cup on Tuesday.
The Panthers meanwhile have lost all four of their league matches, having not found the back of the net even once yet. Although their 1-0 win over lowly FAM Cup side MPKB in the FA Cup may have offered them some glimmer of hope of better things to come, it is unlikely that it will begin this Saturday against the rampaging Pahang.
This is coupled with the fact that the visitors will be without head coach Ashley Westwood on the bench again, as he is still serving his touchline ban.
Pahang boss Dollah Salleh is expected to rely on forward Matheus Alves and midfielder Mohamadou Sumareh this Saturday, with each of them having found the back of the net twice in their previous two matches.
Dollah too will want his men to capture the full three points this Saturday, as leaders Kedah will be playing away to Kelantan. Any slip up by the Red Eagles will let them retake the top spot in the league, especially if they defeat Pulau Pinang. 
Papua New Guinea international forward Nigel Dabingyaba will surely be handed his second start of the season, as his first, against MPKB, gave him and his side their first goal of the season, five matches into the season. Perhaps that was why he was taken off relatively early in the match, in the 63rd minute.