Transfers
Pachuca president confirms three European teams in for Hirving Lozano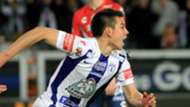 Despite reports the club has reached an agreement with Celta de Vigo, Pachuca president Jesus Martinez says the La Liga side is one of just three teams negotiating for Hirving Lozano.
Celta's La Liga rivals Real Socidad and Eredivisie club PSV also are attempting to bring the winger to the club, where Lozano could join up with his countrymen Carlos Vela in Spain or Hector Moreno and Andres Guardado in the Netherlands.
Chivas coach Matias Almeyda suggested Wednesday that his club might make a shock move for the winger, but Martinez said Pachuca was not looking to move the player within the country.
"Chivas always has wanted him, but I again repeat and again insist that Lozano is going to Europe," Martinez told reporters in Cancun. "He's the only player who is going to leave Pachuca."
Martinez went on to say that Lozano could go to the club that he prefers, and that a deal could be done as soon as next week. Pachuca vice president Andres Fassi, however, said earlier this week that the team won't rush the process.
Earlier in the day, Pachuca secured two attacking players who could serve to replace Lozano, acquiring Edwin Cardona on loan from Monterrey and securing the rights outright from Necaxa for Edson Puch.