African All Stars
Copa Coca Cola Previews: Rivers, Abia in fight to finish for sole ticket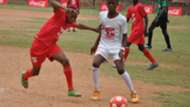 RIVERS vs ABIA
Community Secondary School, Amadi Ama, Rivers and Ibeku High School, Abia will have their destiny in their hands on Thursday with the winners assured of a ticket to the national playoffs in Lagos. It will no doubt be a defining moment for both teams when they file out at the Owerri City College pitch.
Rivers currently top the group by virtue of goals difference but they will disregard the result of Anambra and Ebonyi if they manage to beat Abia. Abia on their part have gradually warmed themselves into the hearts of all. They presented unarguably the youngest side at the Owerri centre and the way they approached their Wednesday opponents, Ebonyi showed that they can't be ruled out completely.
The Port Harcourt side are blessed with arrays of players who can get the job done like goalkeeper, Gabriel Ibinabo who has proved to be a fortress while Uchenna Marizu, David Richard and Silas Jonah Chibuzor have been very rock solid at the back. They are even more potent in the attack where Godwin Achibong who has scored two goals and Wisdom Nnabuihe among others hold sway.
Abia too have quality young players to call upon for a last ditch effort to qualify for the national playoffs.  Onyebuchi Kingsley is very rock solid as goalkeeper while Obinna Anthony, Henry Nnochiri, Nwachukwu Chukwunyere and Samuel Ozoemelam have assisted to reduce the number of goals conceded by the team. They have Nwachukwu Onuoha, Victor Opara, Agu Victor and Simon Jonah to call on in the midfield. Chijioke Amajor who has two goals from two games and Emmanuel Victor are very good strikers who can hurt Rivers if they disregard them.
It will be a close contest with both teams aware of the magnitude of what will be eventuality of the team that emerges winner at the end of the day and it will be a 50-50 chance.
ANAMBRA vs EBONYI  
The tie between Anambra's Holy Name Secondary School and Ebonyi's Community Secondary School could turn out to be a mere formality depending on the result of the match between Abia and Rivers but Anambra will fancy their chances to pip both teams to the sole ticket on goals difference if they both battle to a draw and they are able to thrash no hopers, Ebonyi on Thursday.
Anambra are still unbeaten and they played their best game of the competition against Rivers on Wednesday in a game they could have won if their strikers had not been too wasteful in front of goal. They were also disappointing against Abia in their first game when they allowed them get an equalizer after a late minute infringement in the 18 yard box.
Anambra are blessed with a very good goalkeeper, Harold Kingsley who was the sole reason they still have an outside chance of nicking the ticket on the final day of hostilities despite nursing an hand injury from the first match. They equally have Patrick Chigozie, Obiora Chibueze, Ogbu Chidera and Nweke Somto in defence while Okoli Chimerie, Eze Ugochukwu and  Udemuzue Chimezie are also quite good in the midfield. Strikers like Chinedu Israel, Ofor Stephen and Eme Odinaka will be looked upon for as many goals as possible on Thursday.
Ebonyi will only come out to enjoy themselves knowing that their best can only earn them a third place finish having lost their opening two matches to Rivers and Abia respectively. They will be under intense pressure to come all out to secure a result against Anambra and they will be more dangerous when they are aware they do not have anything to lose.
They will be counting on Igwe Izuchukwu, Nwosu Chigozie, Chimerie Chisom and Okwor Ebube to get them goals that have eluded them since the competition began on Tuesday. They have conceded four goals which means that Oduma Jeremiah, Nwali Chidera, Usulor Israel and Nwali Chinemerie have not been doing enough to protect their goalkeeper, Elom Solomon.