NPFL
Niger Tornadoes' Bala revels in Plateau United win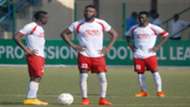 Niger Tornadoes head coach Abubakar Bala says his side's game plan ensured their 1-0 victory against Plateau United on Sunday.
Samuel Agba's goal from the spot secured the Ikon Allah Boys their first win in four games seeing off the leaders at the Confluence Stadium.
On the back of their 3-0 loss against Enyimba, the gaffer insists extra hard work inspired them to winning ways and assures they will work on their mistakes.
"If you look at the result of Enyimba match it wasn't the true picture of our players' performance," Bala told Goal.
"We played very well but we conceded three goals. I believe and know they did a very good job but we only needed to work a little bit harder against Plateau United.
"I'm very satisfied with the performance of my players. We worked very hard for this match knowing that we are facing the league leaders and we had our game plan and it worked out for us.
"We are making progress and to achieve our top 10 finishing position. We are planning very hard to see if we can do better we are currently doing but at least we must achieve our targets.
"I don't like to comment on the other aspect of the game which is officiating. As far as I'm concerned the referee was fair. We did our job and the referee did theirs too.
"The most important thing as a technical man is to look at my weak points and look forward to working on them before the next match."