Africa Women Cup of Nations
Onome Ebi: I can't wait to lead Nigeria to glory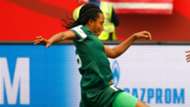 Nigeria women captain Onome Ebi says she cannot wait to lead the team to title success at this year's Africa Women's Cup of Nations, which starts on November 17 in Ghana.
The 35-year-old will be making her sixth appearance at the 11th edition of the competition after previous outings in 2008, 2010, 2012, 2014 and 2016.
Despite missing team's 3-2 loss to Dominion Hotspur, she featured in the 3-1 defeat to Asec Mimosas U16 and Monday's 4-0 win over Eleven Sisters of Gognan at the Sol Beni Stadium, Abidjan.
Having been handed the captainship role, the defender, who plays for Henan in the Chinese topflight, is excited about the challenges ahead but admits it will not be an easy route for her side.
"I am really excited coming back to join my teammates in the Super Falcons," Ebi told Goal.
"It's being a while like since we played the qualifier against Gambia in June. Though it is somehow late, we will use the limited time we have to blend together.
 "First, I want to thank God for keeping me in the team to witness this year's edition. I will be leading the team and really can't wait to get started, though we've started already.
"But I can't wait to get into the competition proper because the spirit and zeal to win again is very high, playing against tougher teams.
"Then, everyone we are everything and expects Nigeria can go and beat any team up to 5-0 but now it is no like that again because every team has woken up in women's football."
While expecting a tough competition in Ghana, the former Bayelsa Queens star is confident her side will retain the title and qualify for the World Cup next year in France.
"Most of the countries have players who have tested and are playing professional football outside Africa. I believe we are up to the task," she continued.
"I know, trust and believe in my girls when it comes to competition like this, no matter the situation, we always go all out and do not care about the nature of our opponents. 
"We will definitely do what we know how to do best which is bringing the trophy back to Nigeria again and as well be among the teams to represent Africa at the World Cup in France."