Malaysia U23
Ong Kim Swee finalises Malaysia squad for AFC U-23 Championship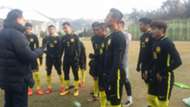 ---
BY        ZULHILMI ZAINAL       Follow on Twitter
---
Following their 1-1 friendly draw against Jeonju Citizen on Thursday, Malaysia U23 head coach Datuk Ong Kim Swee has finalised his squad for the 2018 AFC U-23 Championship by dropping three more players from the centralised training squad.
The three players, Raphi Azizan Mariappen (PJ Rangers), and two midfielders Ahmad Khairil Anuar Zamri (Perak) and Thivandaran Karnan (Pulau Pinang) were dropped as they had been injured, according to a press release issued by the Malaysian FA (FAM).
However, they may still be selected as replacement if any of the players in the 23-man final squad is injured before the Young Tigers' first match in the tournament on January 10.
Among those selected are recent national youth set-up returnee Kogileswaran Raj Mohana Raj, as well as four Malaysia U19 squad members; Nik Akif Syahiran Nik Mat, Shivan Pillay Asokan, Akhyar Rashid and Hadi Fayyadh Abdul Razak.
"The three players dropped have not recovered fully from their recurring injuries. However, they have shown determination throughout the camp.
"They will return to Malaysia on Saturday but they must still be ready to fly to China (where the tournament will be held) if any of the players in the final squad is injured before the tournament kicks off," said Ong as quoted in the press release.
The team have been spending the past two weeks in South Korea where they acclimatised to the cold weather, and underwent three friendly matches. They have drawn 1-1 against Mokpo City, and won 1-0 against Honam University.
They will depart for Nanjing, China on Saturday, and will play in a final friendly match against Syria U23 on Friday, January 5.
The final 23-man Malaysia U23 roster:
| | | | | |
| --- | --- | --- | --- | --- |
| NO | NAME | AGE | POSITION | CLUB |
| 1. | Haziq Nadzli | 19 | Goalkeeper | Johor Darul Ta'zim |
| 2. | Safawi Rasid | 20 | Forward | Johor Darul Ta'zim |
| 3. | Dominic Tan | 20 | Defender | Johor Darul Ta'zim |
| 4. | Adam Nor Azlin | 21 | Defender | Johor Darul Ta'zim |
| 5. | Syamer Kutty Abba | 20 | Midfielder | Johor Darul Ta'zim |
| 6. | Matthew Davies | 22 | Winger | |
| 7. | Nor Azam Abdul Azih | 22 | Midfielder | Pahang |
| 8. | Kogileswaran Raj Mohana Raj | 19 | Forward | Pahang |
| 9. | Syazwan Andik Ishak | 21 | Winger | Johor Darul Ta'zim II |
| 10. | Hadi Fayyadh Abdul Razak | 17 | Forward | Johor Darul Ta'zim II |
| 11. | Ifwat Akmal Chek Kassim | 21 | Goalkeeper | |
| 12. | Akhyar Rashid | 18 | Forward | Kedah |
| 13. | Ahmad Syihan Hazmi Mohamed | 21 | Goalkeeper | Negeri Sembilan |
| 14. | Thanabalan Nadarajah | 22 | Forward | Negeri Sembilan |
| 15. | Shivan Pillay Asokan | 17 | Defender | PKNS FC |
| 16. | Jafri Firdaus Chew | 20 | Forward | PKNS FC |
| 17. | Adib Zainudin | 22 | Defender | Felcra FC |
| 18. | Danial Amier Norhisham | 20 | Midfielder | Felda United |
| 19. | Nik Akif Syahiran Nik Mat | 18 | Midfielder | Kelantan |
| 20. | Irfan Zakaria | 22 | Defender | |
| 21. | Syazwan Zaipol Bahari | 22 | Defender | Perak |
| 22. | Tommy Mawat Bada | 21 | Winger | PJ Rangers |
| 23. | Syahmi Safari | 19 | Winger | |