Malaysia
Ong Kim Swee emphasizes on the importance of the game against Philippines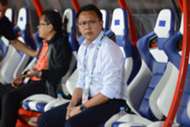 ---
BY         NIK AFIQ        Follow on Twitter
---
National head coach, Datuk Ong Kim Swee emphasized the importance of the friendly match against Philippines and he is aiming for a win. After not playing for four months, the national team Harimau Malaysia set to face Philippines and according to Kim Swee, his team need to get a win in order to improve their ranking.
Ong, who lost his father recently, stated that the death of his father did leave an impact, but he is keen to focus on his job.
"Of course when any incident happened, it will give a certain impact but the most important thing is to continue doing our job. Though it is only a friendly, but this is a big test for us after four months of no international actions and it is important for us to get a win and improve our ranking."
"We cannot underestimate this friendly game because it can give a lof impact to our positions in the ranking," said Ong
When asked about the game against North Korea, Kim Swee added that what he cares about is the safety of the team's officials and players.
"Whatever's decision that will be made by AFC, the important thing for me is the safety of our officials and players. If the government say we don't go, then we don't go. If they say we have to go, then we will go. I believe football got nothing to do with this issue," explained Ong.
Commenting on whether to replace the injured Nazirul Naim, Kim Swee insisted that he has enough players to cover for Nazirul's place. He also added that he will immediately release the players after their match as to give the players enough rest and focus on their respective clubs' task.
"Khair Jones can play in left-back position, Matt Davies used to play there during AFF Suzuki Cup as well as Fadhli Shas. Rizal Ghazali can play on the right-back position. The players will be released after the game because some of them involved in the FA Cup quarter-final. I believe they can get good rest and club can prepare their players well."
"I understand their situation with the tight schedule and everything. I always hope that if we can communicate well with the clubs, we can have good relationship between club and the national team and it can bring benefits to our country," added Kim Swee.
Kim Swee is also hoping that he can use whatever knowledge that he has learned from a one-month program with England's club, Queens Park Rangers, and apply it to the national players.