South Africa
Ode Fulutudilu recalled as Desiree Ellis names South Africa squad for Jamaica friendly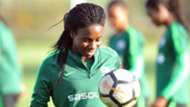 Desiree Ellis has recalled Ode Fulutudilu back into the South Africa squad for an international friendly clash with Jamaica on April 7.
The 29-year-old was last part of the national team when they drew 2-2 with Chile in a friendly at the Estadio Santa Laura-Universidad SEK in October.
She went on to become the first South African to play in Spain's women top-flight following her move to Malaga from Finnish outfit Oulu Nice in February 2019.
As Banyana Banyana look to continue their preparation for the 2019 Women's World Cup after their disappointing Cyprus Women's Cup outing, Ellis has also recalled Rachel Sebati of TUT-PTA, Jessica Williams of Spurs WFC while offering a first-time chance to home-based players like Sibulele Holweni, Yonela Ketu and Bongeka Gumede.
The former South Africa international has explained the motives behind the new invites and also shared her expectations against their France-bound foes.
"We are in the final stages of our preparations and as you can see, there is not much tampering with the squad," Ellis told Safa.
"The core is still there, and we feel we still have a chance to try out a few players to see what they can offer. We were in Cyprus recently and we saw and learned a lot there.
 "We are happy with the squad at the moment. We can just have to see what the new faces have to offer and take it from there, but we are almost close to finalising the World Cup.
She continued: "We have had tough European opponents in the last few weeks, and we are glad to be facing a team with a different style because the main aim of this match is World Cup preparations, and that will help a great deal.
"What makes this extra special is that this is a farewell match, it is the first time we are both going to the World Cup and it also the first time we are playing them – so there is a lot to play for.
"We urge our South African fans, who have been behind us since day one, to continue with the support and come in numbers to enjoy the celebration to us."
South Africa will return to Durban for the first time in eight years as they hope for a morale-boosting win against fellow Women's World Cup debutants Jamaica at the Moses Mabhida Stadium.

FULL SQUAD:
Goalkeepers: Andile Dlamini [Mamelodi Sundowns Ladies], Kaylin Swart, Jessica Williams [Spurs WFC]
Defenders: Lebogang Ramamalepe [Ma-Indies], Nothando Vilakazi [Palace Super Falcons], Janine Van Wyk, Noko Matlou [Ma-Indies FC], Bambanani Mbane [Bloenfontein Celtic Ladies], Tiisetso Makhubela [[Mamelodi Sundowns Ladies], Karabo Dhlamini [Mamelodi Sundowns Ladies], Bongeka Gamede [UWC], Yonela Keto [Thunderbird FC]
Midfielders: Mamello Makhabane [JVW FC], Leandra Smeda [Vittsjo GIK], Nompumelelo Nyandeni [JVW FC], Busisiwe Ndimeni [TUT-PTA], Linda Motlhalo [Houston Dash], Refiloe Jane [Canberra United], Kholosa Biyana [University of KwaZulu Natal], Rachel Sebati [TUT-PTA], Sibulele Holweni [Sophakama/HPC]
Forwards: Jermaine Seoposenwe [JVW FC], Thembi Kgatlana [Houston Dash], Amanda Mthandi [University of Johannesburg], Rhoda Mulaudzi [Canberra United], Ode Fulutudilu [Malaga FC]