Ghana
'Nobody gave me a chance' - Ghana's Tagoe recounts Wafu Women's Cup success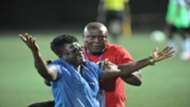 Acting Ghana women head coach Mercy Tagoe admits nobody gave her a chance as her side defeated hosts Cote d'Ivoire 1-0 to secure the inaugural Wafu Women's Cup title.
The Black Queens edged past Nigeria to a 5-4 semi-final win on penalties before avenging their group opener 1-0 loss to Toure clementine's ladies in the final at the Robert Champroux Stadium.
And the ex-international, who became the first-ever woman to lead the country to title success, is pleased with the feat and has thanked her critics for helping her realize her full potentials.
"Indeed, there are a lot of stories to tell me. We lost our opening match against the host team with no way for us to complain and same time playing against the entire nation and that loss was a great lesson to us," Tagoe told Goal.
"It was down to us that we don't have to be in our comfort zone but we need to prove our worth. Generally, we have done well in the tournament and we will enjoy this moment for a little while.
"Coincidentally, I had played for the Black Queens team that I'm coaching and we could never beat Nigeria. Nigeria was my target. If I could beat them, the sky is my limit and I'm going for the ultimate because Nigeria and Ghana semi-final game was like a final before the final.
"Everyone can realize that the game was highly tactical with both teams playing to space, penetrating passes, lobbing the ball and fine touches and moves. After I managed to beat Nigeria, I said I won't sit down and allow Cote d'Ivoire beat me the second time. If that happens, then I'm a fool because it is only a fool that does not learn from its mistakes.
"This was my first major assignment as a coach. I have never coached a U17 or U20 team. I only moved from my male club straight to the Black Queens.  I was understudying my head coach Didi Dramani, who has recently moved to Denmark and the FA entrusted me to take charge of the team temporarily and lead them to WAFU and I am waiting for an able head coach to join me."
On the mountainous task of handling her first national team job, she said: "Why won't I take challenges? In my life, I love challenges because it propels me to the highest level. When I was a player, I remembered telling myself that I don't want to play for the sake of it but break into the national team and next was going the World Cup. 
"Unfortunately, because we were novice we lost our games but then I featured at World Cup. From playing, I said I want to be a referee and not stopping there,  I wanted to be a FIfa referee and ref at the World Cup. As fortune will have it, I was at the Germany 2010 U20 Women's World Cup and Nigeria was in the final, and I nearly did the match but because they were from West Africa - the game was taken away from me and I got a fourth official role in the third place."
She further hailed her ladies for their determination and first-class performance at the regional event as she sets her sights on ending the nation's elusive continental title search this year.
"Now I'm coaching the Black Queens and the ultimate for me is taking my team to the World Cup and Olympics. Fortunately, we are going to host the Africa Women's Nations Cup this year and winning the tournament is my target for now because every time that comes my way, I want to grab.
"With the support, I'm getting from my FA and the sports ministry, I believe the sky is my limit and I'm confident we can win the African Women's Championship.
"Before I became their coach, the players see me as a role model has been a household name in Ghana. I have been telling them that the higher you go, the harder it becomes and the more humble you must be. I don't want it to get into my head, my phone is about to burst due to winning the Wafu tournament but I won't allow that get into my head," she continued.
"I told my players to work hard to become more than I have been because I worked for it and always take their football career seriously and they always listen to make me more proud.
"It means a lot, believe me. When I was coming, nobody gave me a chance. People say this lady what's she trying to do - from refereeing into coaching and I just insists within me, saying Mercy you can do it. Let your attitude talk for you. 
"When asked to try something at 7 am, I will start 6 am and by the time I'm asked - I already got an insight of what I will be taught. That's what I have done and it had paid off. You have to keep trying even if you fail. One day, your breakthrough will come.
"I'm so grateful, especially to my critics in Ghana because it rather gave me the strength to this far and brought out the best in me. I love Ghanaians and appreciate them. I can never have everyone to love me but those few supporting me, God bless them and I urge them to keep supporting me."