No De Bruyne, no problem as Man City prove Klopp right by hammering Huddersfield
Jurgen Klopp said it best. On Friday he dismissed the idea that Kevin De Bruyne's injury would derail Manchester City's bid to defend their Premier League title, and he even went one step further, reminding supporters across that country the anybody celebrating the Belgian's set-back is "an asshole".
On the evidence of City's first game without their best player, he was spot on. 
As the champions tore into Huddersfield, the team that caused them so many problems last season, it was easy to forget that De Bruyne was not out there on the pitch.
Huddersfield allowed City just seven shots on target in two games last season, their lowest total of a free-scoring campaign. City had managed seven shots on target by half-time on Sunday.
There was nothing the Terriers could do to stop the onslaught. Pep Guardiola, not for the first time, named a line-up that made very little sense to neither fans nor journalists, but of course the players knew exactly what was expected of them. 
This City team, charged with improving upon a 100-point season, already seem to be at the stage where they can field completely different teams from week to week, depending on the threat posed by the opposition.
The idea of their strongest XI is dead.
Kyle Walker, Leroy Sane, Riyad Mahrez and Raheem Sterling were all left on the bench. Supporters were concerned about a lack of pace, but this was not a game for speed, it was a game for intricacy, and Guardiola cut his cloth accordingly.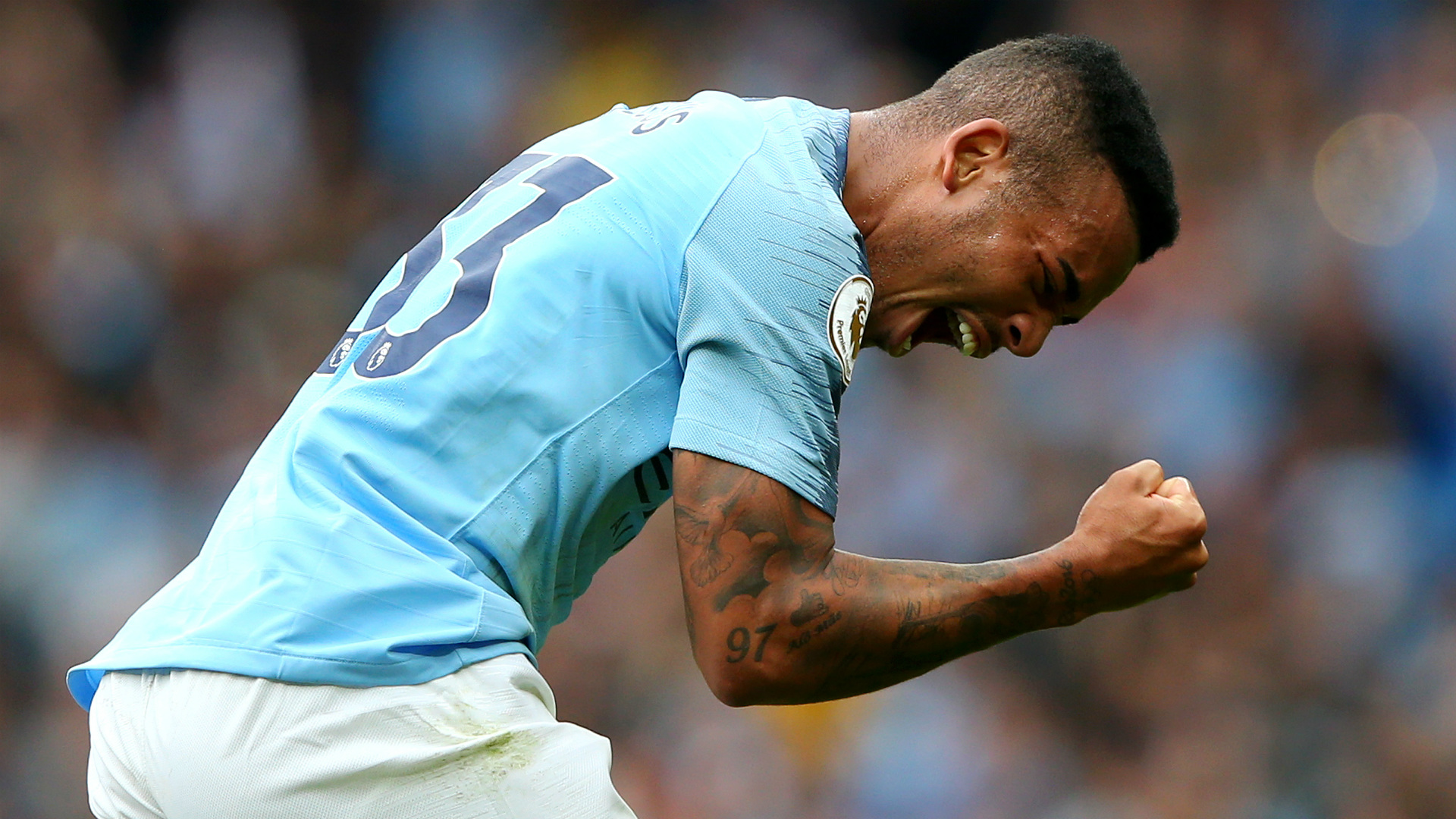 Guardiola went with intelligent, technically-gifted players. Not that those left on the bench are not intelligent or technically gifted, of course, it's just that Bernardo Silva, David Silva and Ilkay Gundogan take a little bit more care with the ball, and they combined with Fernandinho, the mainstay of the midfield, superbly.
They were charged with picking Huddersfield apart through the middle, exchanging passes and firing balls into the strikers, or out to the left.
The strikers were both Gabriel Jesus and Sergio Aguero, who dropped deep to take passes off their midfielders, without forgetting that they need to be in the box to put their chances away.
And what chance did Huddersfield have when even City's goalkeeper was providing the service to them? Ederson added a new dimension to the Blues' game last season with his marvellous array of passing. Push up on him and City will play around you and into the spaces, sit deep and City will have time to play it around you anyway. And then, as we saw on Sunday, sometimes it doesn't matter what you do.
The Brazilian created many goals last season but he was never credited with an assist. He got one here as he launched the ball 70 yards, over the Terriers' best-laid plans, and picked out Aguero. The Argentine darted in behind and made mugs of those who scrambled back to cover.
It was not a normal goal and this is not a normal team. Ostensibly City played a 3-5-2 but there was nothing traditional or familiar about it. There was no need for a classic right-back, because the back three, with the help of Bernardo Silva, covered off that flank. Bernardo Silva did not stay particularly wide on the right, either, but it didn't matter, because Benjamin Mendy was on the left.
The Frenchman's particular set of skills ensured he was as dangerous as any of his team-mates. Just like at Arsenal last weekend he burst forward to cover around 30 yards by himself to set up his side's second goal.
Here, unlike at Arsenal, he received the ball under pressure, but he skipped past his markers with ease to open up the space in front of him. He galloped into it and provided Jesus with his first goal of the season. He then had a huge hand in City's third, his low cross too hot for Ben Hamer to handle, and definitely registered an assist for the hosts' fifth, when Aguero flicked in deftly.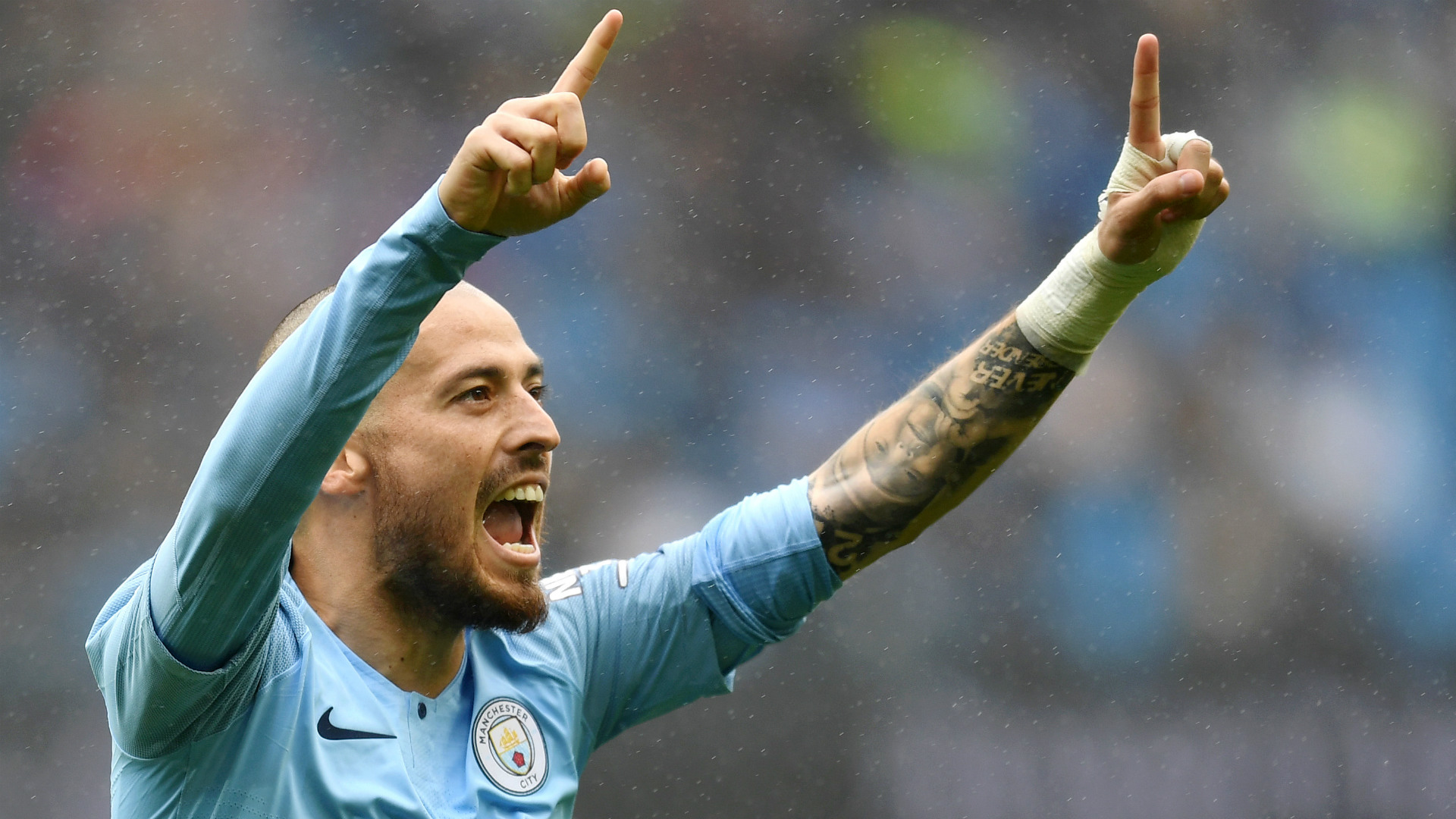 That was another hat-trick for City's record scorer. He now has nine in the Premier League, only two shy of all-time EPL hat-trick record-holder Alan Shearer.
Huddersfield would have known about the threat of Mendy and Aguero but there was little they could do to stop it, proof if needed that you're no better off sitting deep against City than you are trying anything more adventurous.
Another reminder of that came with City's fourth goal; for that David Silva curled home a beautiful free-kick. And then City turned to their bench. Riyad Mahrez, the club's record signing, replaced David Silva. As soon as Aguero had clinched his hat-trick City brought on Sane, as electric a young player as any in the world. Then followed Phil Foden, one of England's brightest hopes.
As the Simpson's memes posted on Twitter suggested, this was cruel. Huddersfield were already dead. City simply had too many options, too many solutions. The Terriers will not be the only team to discover this over the course of the campaign.
Up in the stands, as City partied on the pitch, the TV cameras panned to Fabian Delph. Delph was integral to City's title win last season and he will have a role to play in the coming weeks and months, but he was left to laugh and joke with his son in the posh seats on Sunday, and it was easy to forget that he had not even made the match day squad.
What hope did Delph have when City made us all forget about player as gifted as De Bruyne?