Nigeria Women Premier League Super Four rescheduled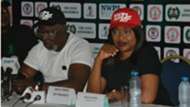 Nigeria Women Premier League Super Four 2017 tournament will now take place from October 9-14 this year in Benin City, Edo State.
The six-day championship, expected to involve defending champions Rivers Angels, Nasarawa Amazons, Delta Queens and Bayelsa Queens was initially billed to hold from September 10-16.
In a statement on Wednesday, a Nigeria Women Football league official, Ayo Abdulrahaman offered several reasons for new adjustment including the Falconets' upcoming World Cup qualifier.
"The date for 2017 Super Four has been postponed due to the following - The camp of the U20 Women national team opens on Wednesday 23rd August, 2017," explained Abdulrahaman.
"14 of the invited players to the U20 camp are drawn from the four participating clubs in the Super Four. The first leg of the U20 Women's World Cup qualifiers holds on the 16th of September 2017 which coincides with the day of departure for the super 4 program, and the return leg holds on the 1st of October, 2017 at Tanzania.
"Also the chief coach of the U20 women national team is the coach of Nasarawa Amazon. Since national team engagement supersedes league activities and the fact that we should avoid situation that will deplete the competing teams for the super Four.
"Therefore, the Super Four program has been shifted to October 9th till 14th October, 2017. We apologize for any inconveniences this postponement might cause."
Winner of the four-team women tourney will receive the sum of N3 million, while the runners-up take N2 million.