WC Qualification Africa
Nigeria need 'grit and determination' vs. Cameroon, says Obafemi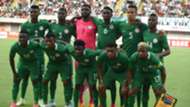 Former Nigeria international Abiodun Obafemi believes 'grit and determination' mixed with the talents in the Super Eagles' will ensure victory over Cameroon.
Still feeling disappointed with the 2-0 loss to South Africa, the ex-Augsburg defender insists Gernot Rohr's men must be proactive to crush the Indomitable lions.
"I've always said that talent is not enough, especially when we are playing any African side," Obafemi told Goal.
"There is no doubt, the crops of Nigeria players are talented but there is need for grit and determination to beat countries like Cameroon. Our transition has to be very faster. That's the movement of the ball from defense to attack.
"As a technical person, we have two ways of approaching a game - been reactive or proactive. We need to be proactive with our status in Africa football - we must be able put every African countries we play against under pressure for 90 minutes both home and away.
"Gone are those days when we score one goal and withdraw to soak pressure. When you score two or three goals, it is not enough. We must adopt the German style of playing. When they score five goals in the first half, they will come in the second half like it is still goalless.
"That is the attitude we need to adopt so that the rest of African teams will start fearing us and the fear factor will return. If you look at the array of players invited for matches, we are blessed compared to other African teams. But I will advise the coach to instill into boys to play high-up and be proactive for the entire duration of the match," he concluded.