WC Qualification Africa
Nigeria must have winning mentality against Cameroon, says Obuh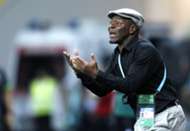 Former Nigeria U17 and U20 coach, John Obuh says the Super Eagles must have a winning mentality when they host Cameroon on Friday for a place in next year's Fifa World Cup in Russia.
The Kwara United handler admitted that Gernot Rohr's men face an uphill battle against the African champions but maintains a 'result-oriented game plan' will help them see off the Indomitable Lions.
"Cameroon is a team that possess a lot of power, all they [Super Eagles] need to do, is to make sure that they do not allow too much of body contact, should there be any, they should be able to withstand it. Football is not just about power, it is a combination of tactical strength," Obuh told Goal.
"The boys should have a winning mentality in them, they should try as much as possible not to be nervous and not allow the anxiety of the home game be upon them.
"They should just try as much as possible to play simple, play forward and at the same time, let it be a result-oriented game plan."
On players that should be employed to battle Hugo Broos' men, Obuh says: "Let them make the best use of their players.
"Let them field the best, and work on their psychology and find out those that are really ready to give the needed result. They have to be positive in everything that they do," he concluded.