Transfers
Neymar out, Paulinho and Dembele in - Xavi admits Barca could have 'signed better'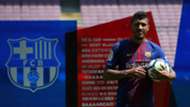 Xavi believes Barcelona have strayed from their footballing philosophies and should have "signed better" in recent transfer windows.
The La Liga giants once boasted a side brimming with the world's top talent, but the Camp Nou icon fears they are now plugging holes with players that are not of the required standard.
Barca 13/2 to win the Champions League
Barca were rocked by the record-breaking €222 million sale of Neymar to Paris Saint-Germain this summer, with Paulinho and Ousmane Dembele among those brought in.
Xavi says the club needs to get back to finding "the best", with greater emphasis placed on the nurturing of hot prospects through the famed La Masia academy system.
The World Cup winner told Marca: "Barca still play really good football but they could have signed better.
"They've fallen asleep because five or six years ago they had the best players in the world for Barca's system. Now, for that system, they have five or six players: [Andres] Iniesta, [Jordi] Alba, [Lionel] Messi, [Gerard] Pique, Luis Suarez, [Sergio] Busquets.
"But Barca should have 11 for that system. Before, you wouldn't see anyone play and say: 'He'd be good at Barca.' That's because they were already there. They have signed players that don't fit that system.
"The academy has to be strengthened. If there are doubts, look at what you have in-house. In Barca's best era, at least 60 percent of the players came from the academy."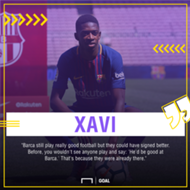 Barca saw arch-rivals Real Madrid secure domestic and European dominance in 2016-17 as they swept to La Liga and Champions League crowns.
Wrestling back the initiative will take time, with Barca opening another new era under Ernesto Valverde, but Xavi believes it is still too early to write them off.
He added: "Patience [is needed].
"In the year of our Treble, everyone wanted Luis Enrique out in January. Madrid won I don't know how many games in a row. They seemed invincible, but they lost in Valencia and then again at home and we ended up winning three trophies.
"The beauty of football is that you never know. With [Pep] Guardiola, I had a feeling of superiority on the pitch that I've not felt since, but of the four Champions Leagues that we deserved to win, we only won two.
"Madrid are a winning team at the moment, they have that habit of winning. The feeling is that they're a much more established team and that Barca are beginning a new era, but that doesn't mean to say they can't win La Liga."
Barca opened the new campaign with a Super Cup defeat to Real but have responded to that setback by collecting back-to-back wins in La Liga without conceding a goal.