Transfers
Neymar for Ronaldo at Real Madrid? Casillas wouldn't swap 'crazy' talented Portuguese for anybody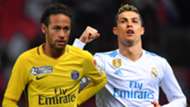 Cristiano Ronaldo remains without equal and should not be allowed to leave Real Madrid to make way for Paris Saint-Germain forward Neymar, says Blancos legend Iker Casillas.
Rumours regarding a possible trading of places between two iconic figures have been stepped up of late following comments from a five-time Ballon d'Or winner regarding his future.
Ronaldo's exit hint in the wake of another Champions League triumph has sparked talk of a move elsewhere for the Portuguese and a record-breaking raid by the Blancos on continental rivals in France.
Casillas is now following goings on at Santiago Bernabeu from afar, having linked up with Porto in 2015, but a man who made 725 appearances for Madrid believes his former club should be doing all they can to keep a talismanic presence on their books.
"Would I change Ronaldo for Neymar? No!" the World Cup winner told reporters at his unveiling as an ambassador for Sportium.
"I wouldn't change him for any other player in the world. I understand that football evolves, but nowadays Cristiano is Real Madrid."
Casillas added on a man he won several major honours alongside in the Spanish capital: "The best team-mate I've ever had? Cristiano.
"It's incredible what this guy is doing. He is improving every day. It's crazy.
"Whatever people are saying, he is happy in Madrid and whatever has been said before, he has always remained at Real Madrid. I don't think he will leave."
While backing Ronaldo to stay put, Casillas is also expecting Neymar to remain in his current surroundings despite the obvious appeal to all parties of making a return to La Liga.
He added: "Neymar to Real Madrid? He swapped a big club like Barcelona for a new challenge at PSG.
"I wouldn't understand a move right now, but I do understand that everybody would love to play for Real Madrid."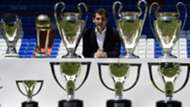 Casillas got to experience the highs of representing Real for 16 years before eventually slipping out of favour.
He may have moved on to take on a new experience, but the 37-year-old admits he would welcome the opportunity to return to his roots in some capacity further down the line.
"If Real Madrid call me, I couldn't say no to returning to the club in the future," he said.
"I saw the [Andres] Iniesta and [Fernando] Torres farewells and, well, my situation was a bit different at Real Madrid.
"In the future there will be reconciliations and there won't be any problems. Everybody would love a farewell like those ones, but I'm not focused on that all of the time."