MLS
New York City's build-from-the-back philosophy backfires again at D.C. United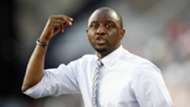 WASHINGTON — Ever since taking over New York City FC, Patrick Vieira has experienced plenty of success. But his team has consistently had one Achilles heel.
On Saturday, it came back to bite NYCFC again.
Vieira's build-from-the back philosophy has resulted in plenty of picturesque attacking moves since he took over prior to the 2016 season, and it helped his team finish second in the Eastern Conference standings last year.
But it has also resulted in some calamitous errors at the back from NYCFC.
Early in the second half of Saturday's match against D.C. United, defenders Maxime Chanot and Frederic Brillant experienced a mix-up when the ball was played back between them. Brillant then attempted to take charge, but the ball bobbled up and Lloyd Sam opportunistically swooped in and finished low when in alone on goalkeeper Sean Johnson.
.@MrLloydSam capitalizes on his chance to put #DCU up 1-0. https://t.co/san57DoVRA

— Major League Soccer (@MLS) April 8, 2017
DCU's lead increased to 2-0 later in the half and despite a late consolation from David Villa, NYCFC fell 2-1 in a game where it out-shot the home side and also out-passed DCU 573 to 299. 
USA, Canada and Mexico to make 'historic announcement'
The error came just a week after San Jose capitalized on a similar misplay out of the back, though NYCFC managed to come back to win that particular match. 
On Sam's goal, DCU did benefit from a bit of a bobble on the uneven surface at RFK. Sam admitted as much, saying: "Thank God we've got a bumpy field and he (Brillant) ended up missing the ball."
But NYCFC did not account for the bumpy field, and instead steadfastly stuck to its philosophy. Despite the mistakes, it would be foolish to assume that Vieira is going to change the way his team plays. 
"Mistakes are part of the game," Vieira said in the post-match press conference. "When it happened, it happened. I don't want to blame Fred or anybody else, [it] is part of the game." 
With Vieira's NYCFC side, it just seems these kinds of mistakes are more a part of the game than with others.