Cup
Nedbank Cup is Orlando Pirates' only way back into Caf, says Phungwayo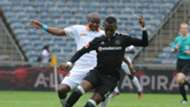 Orlando Pirates defender Patrick Phungwayo says it's important for them to win this season's Nedbank Cup in order to secure their place in the 2018 Caf Confederation Cup.

The 29-year-old left-back was speaking ahead Pirates' Nedbank Cup quarter-final clash with Bloemfontein Celtic at the Orlando Stadium on Saturday.

"The Nedbank is very big'" Phungwayo told The Sowetan.

The 2015 Caf Confederation Cup finalists are currently battling for a top eight finish in the PSL after struggling for the better of the current 2016/17 campaign.

"Pirates are all about competing in Africa' and the Nedbank can get us there' especially since we are not going to be in position one or two in two league.

"So, now we are gunning everything to reach the final," he continued.

"We were talking about it recently that it's a team sport but if three players that we usually rely on are not on form' then of course the team as a whole is a disaster," Phungwayo stressed.

The left-footed player is pleased to see Bucs' two influential midfielders Mpho Makola and Oupa Manyisa slowly regaining their old form under coach Kjell Jonevret.

"So, if Oupa and Mpho Makola are getting their form back it benefits the team. It gives us confidence also," he added.

"You can imagine as a full-back' if your midfielders are not on form it's very hard to have the confidence to go. Now with them on form you have the confidence to go.

"So, things are getting back. Yes' it's late. But we just want to be part of the top eight and of course to win the Nedbank," he concluded.