Nasarawa Amazons get 10 million cash gift for NWPL title win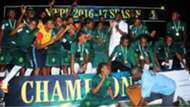 Governor Tanko Al-Makura has splashed sum of ten million naira on players and officials of the Nasarawa Amazons for emerging Nigeria Women Premier League queens in Benin.
The Lafia based girls defeated five-time winners Delta Queens in the final to secure their second league diadem in their history at the Samuel Ogbemudia Stadium.
The Nasarawa governor also approved the release of thirty-eight million naira for the team's sign on fees and directed the upward review of the team's salaries during a reception held at the state Government House on Wednesday.
Al-Makura, who was filled with joy, lauded the team's fighting spirit, sacrifice, and determination in clinching the second league crown under his administration. 
Gov Tanko Almakura splashes N10,000,000 plus N38m sign on fees on Nigeria Women Premier League Champions, Nasarawa Amazons today in Lafia pic.twitter.com/vASajU8qlR

— Samuel Ahmadu (@sam4wigan) October 25, 2017
"What you have done is far more than gold and silver as it is embedded in the heart of everyone in Nasarawa State," Al-Makura said at the reception.
"This is the greatest achievement of this administration in Nasarawa State. The smiles you have seen right from the day you won this trophy and continue to see through the streets of the state will continue to linger.
"And the only way to express it is to show something tangible. So, I think we should recognise it by making certain pronouncements that will add the little comfort to what you already have.
"It is for this reason that I, on behalf of the State Government, with the good thing you have done for the state, that I present a cash donation of ten million naira to you."
In a response, the team's chairman Audu Nuhu, thanked the Governor, the sports ministry and other stakeholders for their roles in the team's recent feat.