Jonathan Klinsmann
Naive and still too American - Klinsmann struggles explained by Hertha coach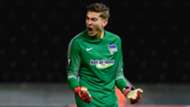 It has been three months since he made his debut for Hertha Berlin, but Jonathan Klinsmann will have to wait a long time for his second appearance for the German club, going by his coach's latest comments.
The goalkeeper and son of Germany legend and former United States coach Jurgen Klinsmann has not had an easy first season since making the move from UC Berkeley last summer.
The 20-year-old was ruled out at the start of the season through injury before and was forced to settle on a bench before making his maiden first team appearance in a 1-1 draw with Ostersund in the Europa League.
Since then, however, he has enjoyed a place on the bench on occasion while the capital club languish in the middle of the German top flight.
And the team's goalkeeping coach Zsolt Petry has revealed that the shot stopper is struggling to prove himself, with even his attitude being called into question as "too American".
"When it comes to the basics, he's definitely got it and athletically he has developed well, too," Petry told Kicker. "He has the skills, but he is not able to execute them on the pitch on a day-to-day basis.
"The reliable, serious and focused German way of working has not completely reached him. He still is way too American. The development of his personality has stopped.
"If he manages to improve, he could become an option. If not, it is going to be difficult."
While Klinsmann continues to struggle with his club, he has already featured 21 times for the United States Under 21s, where he enjoys a regular starting spot.