Newcastle Jets
Nabbout: Merrick has transformed Jets with attacking philosophy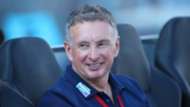 Newcastle Jets star Andrew Nabbout says new coach Ernie Merrick has changed the club's fortunes through the attacking football mentality he has brought to the team.
Having won two of the last three A-League wooden spoons, the Hunter Valley club are currently flying under Merrick, who has the team sitting pretty in second position on the league table - five points behind Sydney FC but seven ahead of third-placed Melbourne City.
The Jets, who are preparing to play Nabbout and Merrick's former club Victory at AAMI Park on Friday night, have already scored 29 goals this season - which is more than they have managed in total for each of the last three A-League campaigns. 
Nabbout, who has contributed six strikes and five assists to that tally, says the players have embraced Merrick's style of coaching.
"The attacking mentality that Ernie's brought has completely changed the dynamic for the team. We play a lot more exciting football and we are very adventurous going forward, which is really good because we have the players to do so," Nabbout told Goal.
"I think he has given us that real emphasis on attacking and really being on the front foot.
"He has given the attacking players the freedom to roam around in the front third. No matter what time in the game we are always switching positions such as the winger coming inside and someone taking his place out wide.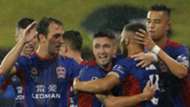 "As you saw against the Wanderers the other day, our full backs were pretty much playing as wingers, which meant their wingers were playing as full backs. We had them on the backfoot the whole game.
"That's what we have been doing the whole season and that's really the mentality Ernie has brought and we've all bought into that."
Friday night will mark Nabbout's first match back in front of his old supporters at AAMI Park - having played against Victory at Etihad last season.
The 25-year-old scored twice in a 4-1 win against Victory earlier this campaign and hopes it will be a similar story this time around.
"I love playing at AAMI Park – the crowd is always unbelievable so it will be good to go back there," he said.
"I love the stadium, I love the atmosphere the fans bring and you know it's going to be a really good game.
"Coming up against (the Victory) last time, everyone wrote us off.
"Hopefully this weekend we can start on the front foot again and really get at them."