Difaâ El Jadida
Msuva's Jadid held in goalless draw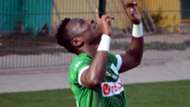 Tanzania National Football Team winger, Simon Msuva played in the Difaa El Jadid away draw against RSB Berkane in the Morocco premier league (Batola Pro).
The former Yanga man, was replaced by Adil El Hasnaoui in the second half after producing a lively 78 minutes on the pitch. 
Msuva played at Yanga for five seasons winning six major titles and secured two golden boot awards.
The draw helped Jadid to move two steps up to third position with 36 points, eight behind the league leaders Ittihad Tanger after 23 games.
Jadid's starting line-up: Aziz El Qinani, Mohamed Hamami, Youssef Aguerdoum El Idrissi, Bakary N'diaye, Marouane Hadhoudi, Fabrice Ngah, Anouar Jayid, Ayoub Nanah / Lhoucein Khoukhouch (80), Simon Msuva/Adil El Hasnaoui (78), Hamid Ahadad Hamza Sanhaji / Bilal El Magri (78).