Ajax
Move over, Vinicius Jr! Ajax star David Neres is Brazil's next big thing
"We have just paid too much, we know that," Marc Overmars bemoaned a few months after Ajax had signed David Neres for €12 million from Sao Paulo.
By then, the winger had displayed promise in his first 12 appearances following his arrival in January 2017, but there was still a lot for the Brazilian to prove given he had been the subject of wild comparisons to Neymar.
It's fair to say that the club's opinion of that deal has changed over the last two years, particularly after the club knocked back a €43m bid from Guangzhou Evergrande in January. If it wasn't for Diego Lainez's decision to join Real Betis instead of Ajax, Neres would be playing in the Chinese Super League, but the Brazilian has already proved the Amsterdam side were smart to hold on to him.
His influence in the Champions League campaign has made that clear, although there are plenty more examples to indicate that the 22-year-old is growing into an exhilarating player.
He set up Hakim Ziyech in the 2-1 defeat to Real Madrid in the first-leg of their last-16 tie to keep Ajax alive before they pulled off a historic comeback in the return fixture. Neres was again a standout in the Spanish capital, charging into the box to receive Dusan Tadic's pass before beating Thibaut Courtois.
That helped convince Brazil coach Tite he was a good choice to replace Vinicius Junior in the national team after the Madrid star was injured in that game. Neres went on to assist a goal on his Selecao debut against Czech Republic, leading Tite to admit that Vincius Jr had "missed an opportunity" as they compete for a place in the Copa America squad.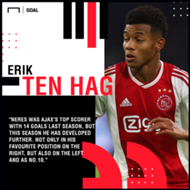 It's thanks to an excellent solo goal from Neres that Ajax head into Tuesday's quarter-final second-leg all square with Juventus. Trailing to Cristiano Ronaldo's opener, the Brazilian darted down the left side and cut inside to evade Joao Cancelo and curl past Wojciech Szczesny.
He has 12 goals and 12 assists in all competitions, and has had a big say in Ajax's Eredivisie title challenge. He was particularly key in last month's crucial win over PSV. With a Cruyff turn he tricked Daniel Schwaab into conceding a penalty, allowing Dusan Tadic to restore Ajax's lead. Then, the young winger shook off Angelino and finished in the dying seconds to seal a 3-1 victory. It cut PSV's lead at the top of the table to two points and Ajax have since moved ahead on goal difference.
Neres' relaxed demeanour and character on the field has seen him accused of appearing disinterested and lazy. He plays up to that, too, admitting in an interview with NOS: "I have many favourite places. My house, my couch, my bed".
His sense of humour may be too subtle for some. He told Het Parool that he won over his girlfriend, German model Kira Winona, by sliding into her Instagram direct messages with the bold line: "I am David Neres, come to me". He then had to clarify it was a joke after his other half was bombarded with messages and unflattering comments.
However, these first impressions of Neres are deceiving – certainly on the pitch itself.  When he bursts into gear and puts his pace, skill and quick change of direction to good use, he can be very hard to deal with for opponents. Even when he is not directly involved, he keeps moving and drags defenders around to make space for team-mates.
Although he has been excellent at times over the last two years, he has been through a few disappointing spells. He had a quiet start to this season and was relegated to the bench, but Ten Hag still felt guilty for leaving him out.
"Of course Neres deserves a place in the team," he said in November. "But that applies to more players and I can only pick 11. Now he's showing he is more than worthy of a starting place. He really adds something and is not giving up. This is very good for the power of the dressing room. He delivers quality and exudes pleasure."
Neres admitted to Inside Ajax recently that he was "too fickle" in the first few months, adding: "I regretted that I didn't get picked and often sat on the bench. All those things made me insecure. It wasn't fun. The most important thing I could do was keep working. I always kept my focus, in case the team needed me. I wanted to be ready."
It was in late-October that he started to find form again. Two days after Ten Hag said in an interview that Neres needed more goals and assists, he hit a hot streak by scoring two and setting up five in seven league games.
It started with a fine display against Feyenoord when he played a one-two with Ziyech to get into the box before lifting it onto Tadic's head with a perfect short cross to make it 3-0.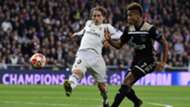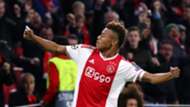 He has been lively coming off the bench, too, notably getting a goal and two assists in a 15-minute cameo as they beat VVV-Venlo 6-0 in February. He was left out the following week for tactical reasons when they went down 1-0 to Heracles, but Ten Hag picked him a few days later for the first leg against Madrid. He has started every game since.
"He already took steps forward last year," Ten Hag said last month. "He was Ajax's top scorer with 14 goals, but this season he has developed further. Not only in his favourite position on the right, but also on the left and as No.10. He may have played his best matches on the left, against Bayern Munich and Real Madrid, where he was actually untouchable."
As the spotlight falls on Ten Hag's exciting team, Neres has picked the right time to bounce back.
"I started playing at the highest level again," he noted. "That is important for my career and to put me in the limelight. It's also important for my place in the national team and my career in the future."
Indeed, while international rival Vinicius Jr is widely considered Brazil's next big star, many should also keep an eye on the 22-year-old Neres, who is paving the way for a brilliant career of his own.
Missing out on the move to China has quickly proved to be the ideal outcome as his career for club and country has been boosted. He will have other chances to move, anyway. Borussia Dortmund were turned away last summer, the English press have linked him to Arsenal and Liverpool, while L'Equipe claim Paris Saint-Germain are eyeing him up too.
If Neres keeps moving on his current trajectory, that €12m will go down as a spectacular bargain for Ajax.