PSL
Mosimane: Sundowns didn't have the legs to match Baroka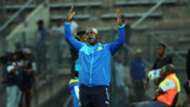 Mamelodi Sundowns were left crestfallen after a stoppage time penalty saw them lose out on two valuable points against Baroka FC on Wednesday night.
In the aftermath of the result, a notably frustrated Pitso Mosimane questioned the referee's decision to award Baroka the penalty and six minutes of injury time.
"I don't know if it was a penalty. I could not see it from where I was. I don't know if it was inside the box or outside the box," Mosimane said post-match.
"It's very difficult for us to see. For me, it looked outside the box, but It's OK, It's football. I'm not sure about the added six minutes, but it's OK."
"What surprises me is that the guy (referee) says five (minutes) and suddenly it's six, but I'm not saying we drew because of the (added) six minutes. It's part of football, it's part of the game. We have to continue. It's very sad. I hope the referee didn't make a mistake otherwise it's sad," Mosimane
The 52-year-old also bemoaned Sundowns' fixture schedule and stated that Baroka were sharper on the night due to their inactivity prior to the clash.
"We must be honest. We were playing a team that has not played in 12 days. They were quicker than us, they were sharper than us," Mosimane said.
"We played (Bidvest) Wits, we played Platinum Stars, we played (Orlando) Pirates and then we played them. So, it's normal that we don't have the legs to match them. They were much stronger physically, but it's part of football. If it's not meant for us, it's not meant for us, but we keep going," Mosimane stated.
The Brazilians' focus now shifts to the Caf Champions League on the weekend, and Mosimane is wary of the role fatigue could play.
"Again, the people we are playing are rested and watching us. It's a different competition, we were fighting on all fronts, we already played 51 games and that's why we are struggling at the end," Mosimane said.
"That's why I say, for us it's the way it is and we are fighting on all fronts. Unfortunately, we are in the race with people who are playing less games than us. Everybody's played less and you'll have people who will be resting at the weekend and coming to us again next week. It's tough but it's the way Sundowns want and we like that. Let's stretch ourselves and let's see how good we are and how far we can go."
"I'm proud of the team that gives everything to the end," Mosimane expressed.