Victor Moses
Moses: Conte didn't ask if I'd play wing-back, he just put me there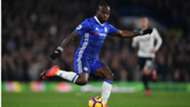 Victor Moses says he was not consulted by Antonio Conte before he started playing him as a right wing-back.
Who is Chelsea's Player of the Season?
The Nigeria international found game difficult to come by in the Chelsea first-team after joining from Wigan in 2012, being sent on loan to Liverpool, Stoke and West Ham over the last three years.
He has become a key player this term, however, shining in a deeper role on the right side after Conte switched his defensive setup to a back three. 
Moses, 26, has featured in 37 games in all competitions for the Blues this term, but he says he had no idea he would have to adapt to a new role until he was thrust into the starting XI against Hull in October.
"He didn't say to me: 'Do you fancy playing wing-back?' He just put me in there," Moses said. 
"After that he just kept on encouraging me and went through it with me, what the position was all about, mostly in training. And constantly he was talking to me in training to make sure I was improving in it, talking me through it. I took that in and I didn't look back.
"I have always believed in the ability that I have got. I have always known that I've got the ability to play in a big club like Chelsea. I have proved that. We have got a manager here that is willing to give everybody an opportunity.
"To be honest, I just wanted to play football. It was at Hull that it all started. I really enjoyed it and I took everything in.
"I kept watching the video of myself after the Hull game, to make sure I was in the right place, and after that I took it in and kept on improving."