Unai Emery
More goals & assists than anyone else: Emery on Arsenal sub success & why he makes changes so early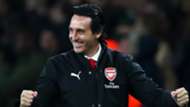 Arsenal manager Unai Emery says that his habit of early substitutions in games this season is down to his desire to spark change in matches rather than with any premeditated strategy.
The Gunners' replacements have contributed more combined goals and assists than any other team in the Premier League during the current campaign, with their manager's knack for injecting fresh legs at the right moment reaping the rewards.
The North London outfit currently sit fifth in the table, on level points with rivals Chelsea, and firmly in the mix to challenge for a Champions League place.
Emery however has played down his decisions to make changes sooner rather than later is dependent on the moment and the match in question, but that the philosophy comes from a mentality that any alterations will have an effect on the encounter.
"I learned in Spain with one coach, Javi Irureta," the 47-year-old told Arsenal's website. "He trained in Deportivo La Coruna and had a big career as a coach.
"[When] he was my coach, he said to us: 'When I change it is because I want some change. Maybe it is positive, maybe it is negative but [it is a] change.'
"This was the first idea I received and I do in my mind. At other teams I have coached, some criticism of me was that I changed usually very late. Here for example you are saying I change usually quickly.
"It depends on the moment, how the match is going, but one situation we are living here is in the first half we couldn't finish winning in the 15 matches in the Premier League. That is one reason, I need to [make changes]."
Arsenal blew away Tottenham 4-2 in a hotly contested derby at the weekend before they were pegged back to a 2-2 draw away to Manchester United at Old Trafford.
They next host struggling Huddersfield Town on Saturday before their final game of the Europa League group stages against Qarabag on December 13 at the Emirates Stadium.
They will likely do so without Rob Holding and Aaron Ramsey, however, after the pair were injured against United.